Overview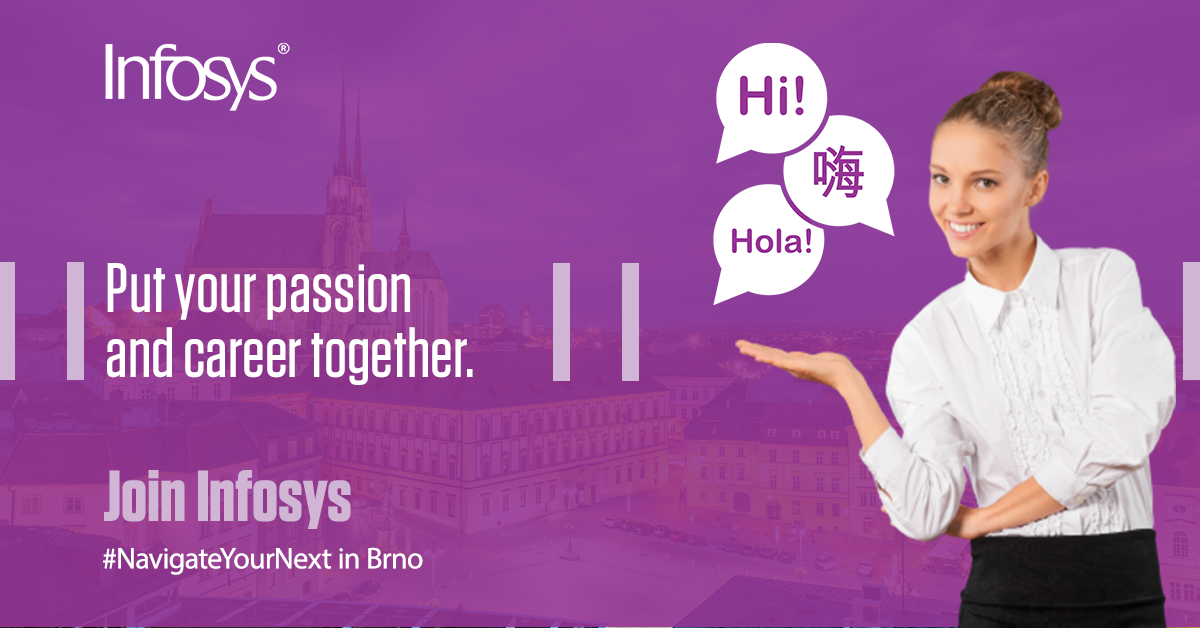 INFOSYS provides career opportunities and stable employment in a multinational environment where YOU can get a chance to use various languages, be a part of the prominent and world-famous brands, acquire and upgrade IT skills working from the all-new office building in the center of Brno.
How will your day look like?
Using customer service skills together with knowledge of the client (global networking company) product and services offerings, you will be accountable for the support of European and global business teams working with large B2B customers.
You will be engaged with the business team in situations requiring high levels of interaction, cases with high business complexity and escalated cases. You will use email (75 %) chat (20 %) and phone (5 %) to communicate and work with the business teams. In all cases, you will maintain ownership of the cases and drive to a successful outcome in the most efficient and effective manner possible.
You will be part of the young international European team working on large B2B client proposal here in Brno together with other people from all over the world and we are already looking forward to co-operating with you!
Your workday will just fly by as you will:
participate in the creation of a large business to business service and product proposals;
create and amend price quotes and proposals;
work closely with the internal business team to gather information and data to help them to create the best solution and offer for the client;
own end to end various customer requests / task and proactively drive them to successful closure;
prepare large proposals;
deal with partners/resellers.
Why does Infosys choose you? You definitely:
speak and write in English fluently;
possess communication and reporting skills;
understand client´s needs and give useful guidance to the client;
are a quick learner who easily applies problem-solving, critical thinking and analysis skills;
are daily user of Microsoft Office – specifically Excel;
have excellent time management skills;
can be punctual and relied on.
Infosys esteems you as we provide:
long-term and stable cooperation;
performance bonus;
financial appraisal for referring your friends and acquaintances;
monetary compensation of the night shifts and compensation days for working at the Czech state holidays;
meal allowance;
cafeteria;
organized training sessions during the first weeks and further upskilling courses (online, with our experts);
25 days of paid leave;
relocation support: 2 weeks of initial accommodation provided by the company;
brand new offices (Vlnena street) with a game room, a silent zone, kitchenettes, a terrace in the center of Brno, 2nd largest city of the Czech Republic;
expat Assistance Services for new joiners;
teambuilding activities.
Infosys appreciates your time so the hiring process is usually concise:
Apply – Receive a respond after your CV evaluation – Get a call from our Recruiter – Arrange a video conference with our Team Leader/Manager – Get a feedback/offer – Navigate your next with Infosys.
Do you want to know more about Infosys?
Infosys in the Czech Republic provides business-to-business trans-formative services for its clients across the globe. Moreover, Infosys is one of the leaders in the next-generation consulting, technology and outsourcing solutions. From its Brno Deliver Center Infosys provides technical support to more than 30 global multinational corporations.
Why is it a wise decision to join Infosys?
Infosys gives career opportunities to people with and without solid experience who are willing to absorb and implement technological innovations on a daily basis.
About Infosys (Czech Republic) Limited s.r.o.
We are Infosys Czech Republic, a diverse, multinational company based in India. We are focused mainly on outsourcing services to other businesses.
If you speak English, know how to communicate in other European languages and you have a passion for working with people, you can be the next Infoscion. We like to work with students, fresh graduates, and inexperienced people to help them improve their communication, analytical or IT skills. We see the potential in young people, and we love to see them grow within our company.
Navigate Your Next in Brno.