JobSpin.cz Multilingual Job Fair Powered by Brno Daily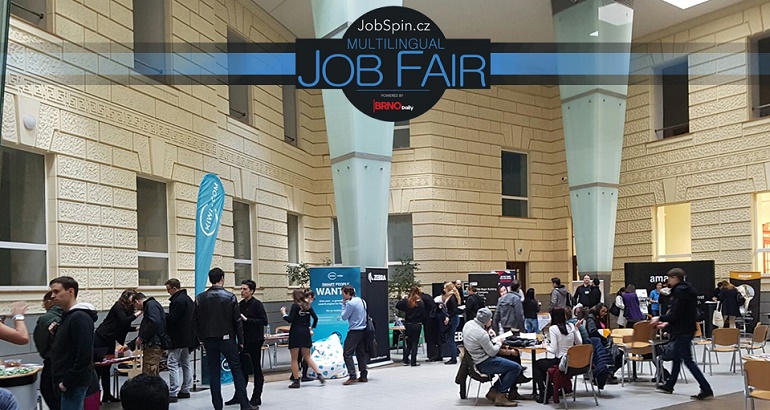 BRNO, get ready! Third JobSpin.cz Multilingual Job Fair Powered by Brno Daily is coming. Registration below.
Date and Time: March 17, 2018 from 10 AM to 4:30 PM
Venue: Faculty of Social Studies, Masaryk University, Joštova 10, Brno 602 00
Entry free.
This is the most exciting international career networking event in the town and "must-attend" for expatriate job seekers. The biggest employers in Brno and other Czech cities will be at the job fair wanting to hire new multilingual talents.
At the fair, you will have a chance to meet representatives from companies currently seeking new employees with outstanding language skills and international background.
JobSpin.cz Multilingual Job Fair takes place on 17th March 2018 from 10 am to 4.30 pm at the Faculty of Social Studies of Masaryk University on Joštova street. The Faculty of Social Studies (built in 1910) is one of the most well-known buildings in the city. The Faculty was established in 1998 and welcomes everyday a huge amount of students who study at one of its 11 departments.
Why Should You Come?
Meet in person your potential managers and coworkers.
Give your resume in the hands of people who WILL read it.
Ask the questions and get a good feel on the work you will be doing.
You can expect presentations for job-seekers, assistance for foreigners from expat centers, and professional consultations regarding CV writing and interview preparation.
And, as we always do, the job fair is FREE to attend for all expatriate job seekers!
Do You Need to Speak Czech?
Almost everyone who wants to relocate and find a job in the Czech Republic asks us about the Czech language – so, is it necessary to learn it or not? Our answer is no! The official language of the job fair is English. The companies seek people who speak English or English and other language – most often French, German, Dutch, Spanish, Russian, Italian, or Nordic languages. As you can see, Czech language is not in this list.
Program
Will be published soon.
Free CV and Relocation Consulting
SPECIAL TIP: Consult your CV with professionals from Manpower! Recruiting experts from Manpower Group will help you to perfect your CV. They will provide free consultations at a special CV Consulting Panel during the whole day.
Brno Expat Centre and Foreigners.cz will answer your questions regarding relocation to Brno.
Foreigners.cz will provide consultations regarding living as an expat in the Czech Republic during the whole day. Come to their stand and ask! They have prepared a small competition with prices, too.
Registration Process
The entry is guaranteed and free of charge for those who register for the event (find the register form below). Registered users will receive a ticket and complete program in a special E-mail.
The entry is guaranteed and free of charge for those who register for the event. Find the registration form below!
Other Information
Register or follow #JobSpinJobFair on social media for fresh updates.
 Event on Facebook
 For media: Press kit JobSpin.cz Job Fairs
Reviews
Average rating:
3 reviews
Oct 30, 2017
I believe this event is really a 'must go' for everyone who wants to work in the Czech Republic. There are many companies who are actually hiring! When I was thinking of working in Brno I took a chance to talk to representatives of a few companies which was very helpful in the matter of knowing their recruitment processes and requirements.
Oct 21, 2017
Useful event for expats
Job Fair in English is something that was missing in Brno. It is a great event which helps expats to learn their opportunities and have a better reality of local job options. Thanks to organizers!
Oct 21, 2017
good
Its a very good idea to meet plenty of people from different industries to discuss ideal opportunities and very good inspiration for everyone who is looking for a new job. Good place
JobSpin.cz Job Fairs Powered by Brno Daily
When you are job searching, take some time to attend job fairs. They give you the opportunity to meet the hiring managers in person that you might not be able to access any other way. Plus, JobSpin.cz Job Fairs Powered by Prague.TV offer networking programs, resume reviews, and workshops, and seminars for job seekers.