JobSpin.cz Multilingual Job Fair Powered by Prague.TV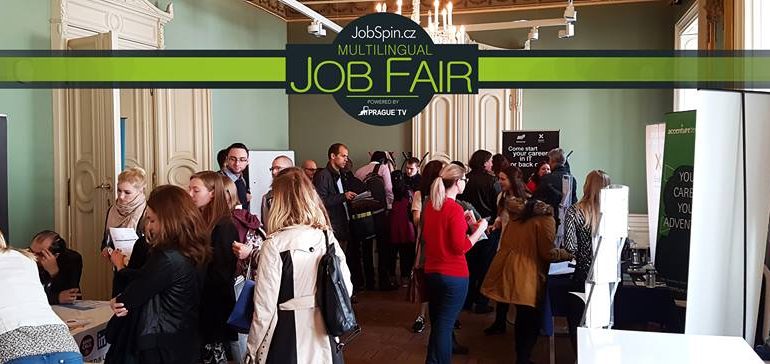 The third edition of the most exciting international career networking event in Prague takes place on October 21st, 2017 at Anglo-American University.
When and where: October 21, 2017 from 10 AM to 4:30 PM at Anglo-American University, Letenská 5, Prague 1
JobSpin.cz Multilingual Job Fair is the most exciting international career networking event in the town and a "must-attend" for all expatriate job seekers. This job fair is perfect for candidates with excellent language skills and international education or work experience.
This is your opportunity to meet with representatives from the largest local and international companies seeking to hire multilingual talents such as Accenture, CDK Global, Manpower, Experis, or SAP.
Come if You Want to...
Meet in person your potential managers and coworkers.
Give your resume in the hands of people who WILL read it.
Ask the questions and get a good feel on the work you will be doing.
Wait, there is more! You can join presentations for job-seekers, seek assistance for foreigners from expat centers, and get free professional consults regarding CV writing and interview preparation.
And, as we always do, the job fair is FREE to attend for all expatriate job seekers.
Do You Need to Speak Czech?
Almost everyone who wants to relocate and find a job in the Czech Republic asks us about the Czech language – so, is it necessary to learn it or not? Our answer is no! The official language of the job fair is English. The companies seek people who speak English or English and other language – most often French, German, Dutch, Spanish, Russian, Italian, or Nordic languages. As you can see, Czech language is not in this list.
TIP: Bring at least five printed copies of your CV or your business cards!
Registration Process
The entry is guaranteed and free of charge for those who register for the event (find the register form below). Registered users will receive a ticket and complete program in a special E-mail.
Did you miss the April job fair? Read more about our last multilingual job fair in Prague in this article: Third JobSpin.cz Multilingual Job Fair – Back in Prague.
Program
Presentation: Anna Svobodova, HR Manager: Alef&Maqroll: A comprehensive look into an innovative consulting firm.
Established in 2014, Alef&Maqroll is an innovative consulting firm based in Barcelona. Surrounded by a young and dynamic environment where motivation and eagerness to grow professionally are highly valued. We work hard yet we know how to have fun as a team at the end of the day. Life is short, work somewhere awesome!
SPECIAL TIP: Consult your CV with professionals from Manpower! Recruiting experts from Manpower group will help you to perfect your CV. They will provide free consultations at a special CV Consulting Panel during the whole day.  
 Follow the latest news about JobSpin.cz Job Fairs in Prague and Brno on Facebook.
JobSpin.cz Multilingual Job Fairs Powered by Prague.TV
When you are job searching, take some time to attend job fairs. They give you the opportunity to meet the hiring managers in person that you might not be able to access any other way. Plus, JobSpin.cz Job Fairs Powered by Prague.TV offer networking programs, resume reviews, and workshops, and seminars for job seekers.