Jobspin Multilingual Job Fair in Prague
The 8th edition of the biggest job fair for expats and bilingual job seekers in Prague
  April 4, 2020 at 10:00-16:30   
Anglo-American University, Letenská 5, Prague 1 (map)
This job fair is perfect for candidates with excellent language skills and international education or work experience! Jobspin Multilingual Job Fair is the most exciting international networking event in the town and "must-attend" for all expatriate job seekers.
Over 700 visitors came to discover new job opportunities in Prague at Jobspin Job Fair on November 23, 2019.
Come If You Want To...
✔ Meet in person your potential managers and coworkers.
✔ Give your resume in the hands of people who WILL read it.
✔ Ask the questions and get a good feel on the work you will be doing.
Wait, there is more! You can join presentations for job-seekers, seek assistance for foreigners from expat centers, and get free professional consults regarding CV writing and interview preparation.
And, as we always do, the job fair is FREE to attend for all expatriate job seekers.
Program
Complete 2020 spring program will be published in March. For updates, please register here or follow Jobspin Job Fairs on Facebook (event) and Instagram.
Presentations (details will be updated):
Accenture
AB InBev
Amazon
CPL
Workshops (details will be updated):
Accenture Workshop 1
Accenture Workshop 2
Nonstop Recruitment
12:45-13:15 - Building Your Brand: CVs And Beyond
Book your spot and get an update on the topic & time.

Speaker: Elizabeth Nováček, Anglo-American University Alumni & Career Development Specialist
"Recruiters look at CVs for an average of 6 seconds. How will you make yours stand out and be authentically 'you?' This workshop will unpack the tools and tips of how to construct your best CV, and how to harmonize it with your LinkedIn profile, cover letters and interview, vis-à-vis, your professional brand."
Free Relocation Consulting
Need relocation help and advice? Stop by at the stands of our partners - Foreigners Prague & Move To Prague.
TIP: Bring at least five printed copies of your CV and/or your business cards!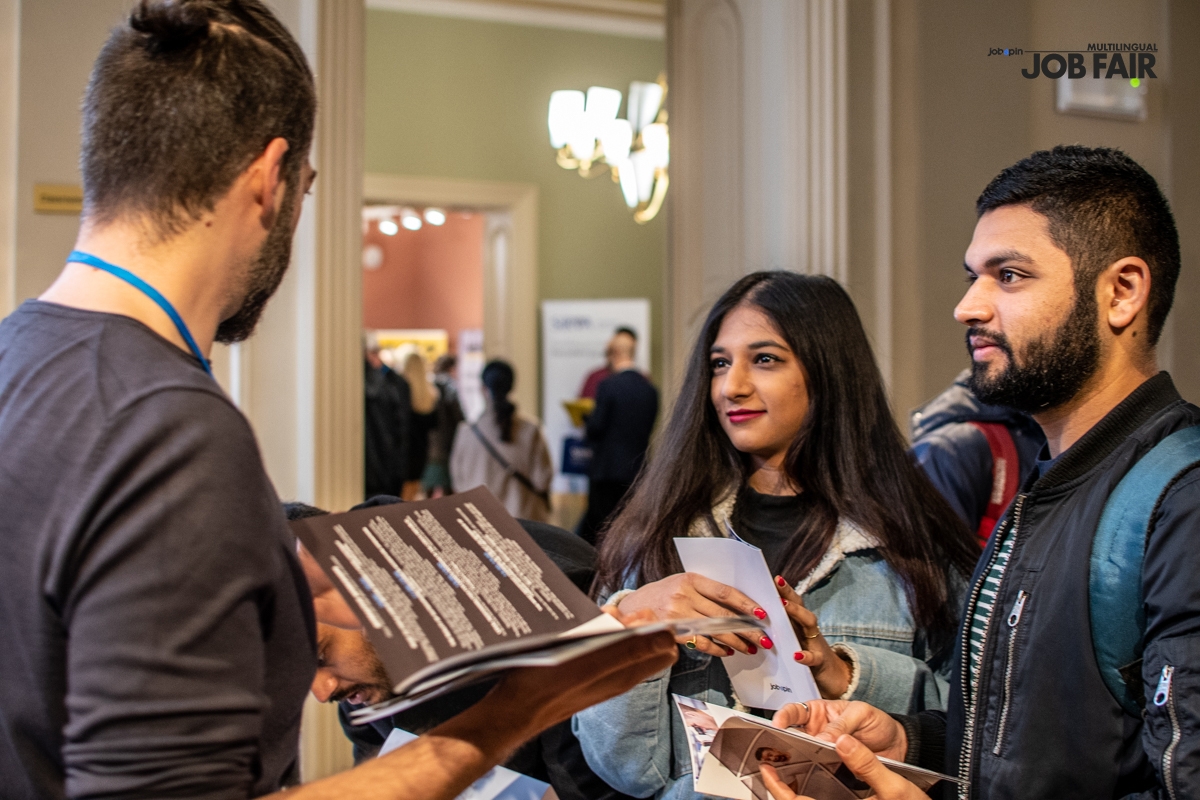 Do You Need to Speak Czech?
Almost everyone who wants to relocate and find a job in the Czech Republic asks us about the Czech language – so, is it necessary to learn it or not? Our answer is no! The official language of the job fair is English. The companies seek people who speak English or English and another language – most often French, German, Dutch, Spanish, Russian, Italian, or Nordic languages. As you can see, the Czech language is not on this list.
2020 Exhibitors - the list will be updated soon
Exhibiting Employers: AB InBev, Accenture, Amazon, D-ploy, ICON Communication Centres, Johnson & Johnson,...
Exhibiting Partners: Foreigners Prague, Move To Prague
Registration Process
The entry is guaranteed and free of charge for those who register for the event (find the registration form below). Registered users will receive a ticket and complete program in a special E-mail. The entry for the presentations is free of charge, too.
Please note that by entering this event, you give a consent to be photographed. All such photos shall be sole property of the event organizers.
Latest Reviews
Jobspin Multilingual Job Fair Prague
Average rating:
34 reviews
Nov 24, 2019
job fair
satisfactory
Nov 24, 2019
job fair
I really like the exhibition. It is very useful. Looking for the next one.
Nov 24, 2019
job fair
Representatives from companies are very helpful.Good atmosphere and nice snacks
May 4, 2019
Electronic Engineer PMP
It was a great opportunity to meet future employers, every presentation was good.
May 4, 2019
Its very usefull whos seeking the job opprtunity.....Finally its good job fair
Its very interesting and easy to find job opportunities through the jobspin.cz.

Finally its good entry for who seeking for job seekers.
May 4, 2019
applicant
Very useful, nice atmosfere.
May 4, 2019
Thanks
Very well organized event for the people who are looking for a job. I wish to see more companies from different industries during the next job fairs. Organizing team was really helpful in all aspects.
May 4, 2019
It was a wonderful experiece and happy to explore a lot of companies and positions. Hoping to attend these jobfairs in future.
May 4, 2019
new opportunity
I made lots of contacts with great companies and I also got a job proposal. So it was excellent!
Nov 4, 2018
I really enjoyed time spent at the JobSpin fair, I've talked with a lot of people who gave me useful informations. I am looking for a job at the entry level - changing profession, and they gave me good feedback and such. Thank you
Please, contact us at team@jobspin.cz if you wish to delete your review.
Jobspin Multilingual Job Fairs
When you are job searching, take some time to attend job fairs. They give you the opportunity to meet the hiring managers in person that you might not be able to access any other way.
Plus, Jobspin Job Fairs offer networking programs, resume reviews, and workshops, and seminars for job seekers.
Register or follow #JobspinJobFair on social media for fresh updates.
Jobspin Job Fairs in 2019 / 2020 (2020 autumn dates will be confirmed)
23.3. 2019 Brno
4.5. 2019 Prague
19.10. 2019 Brno
23.11. 2019 Prague
21.3. 2020 Brno
4.4.2020 Prague
10.10.2020 Brno
21.11.2020 Prague