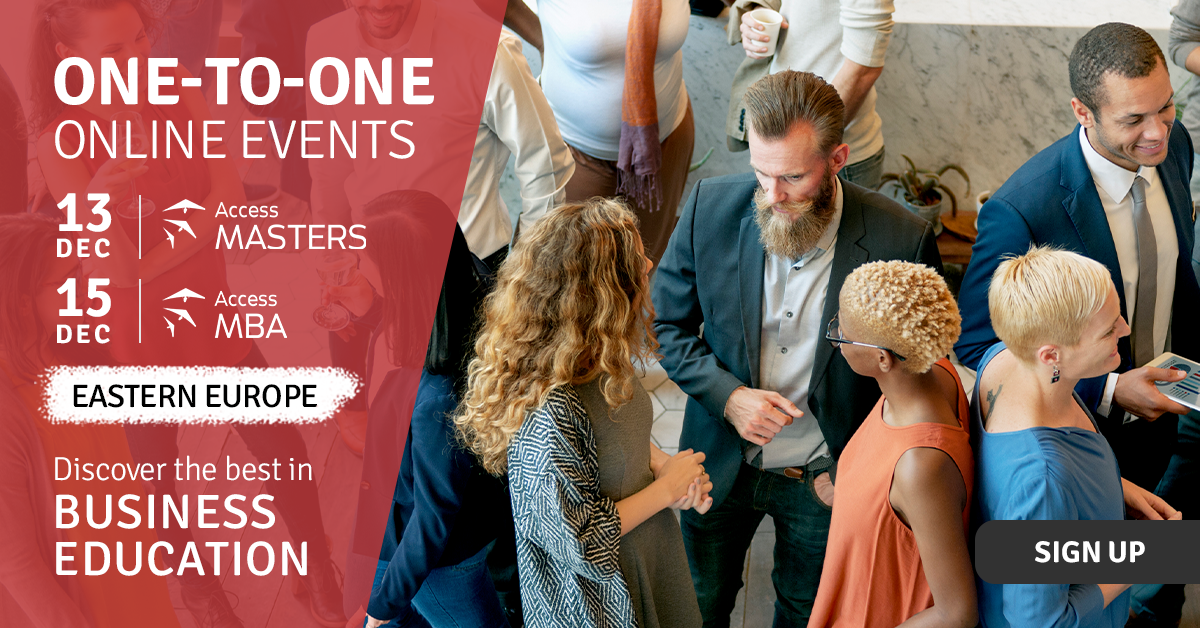 IT'S TIME TO FIND YOUR DREAM GRADUATE SCHOOL
Do you need to upgrade your career in these challenging times? The Masters and MBA degrees is the most sustainable road for your career growth.
At the upcoming Access One-to-One online events for Eastern Europe, you will get the full package of guidance and orientation to help you choose a top business school for your needs. Get ready to meet representatives of international Masters or MBA programmes and discover study opportunities that match your goals – all online and in one place.
Join the Masters event if you are 19-24 and have 0-3 years of work experience on 13th December
Join the MBA event if you are 25 over have 3+ years of work experience on 15th December
Secure your future with a higher degree now! Here is what you can expect from the events:
You're right – researching business education can be too much to handle. At Access events, you get a fully personalised, free service that saves you valuable time and effort. Even before the event, an experienced team of consultants will assess your professional background and profile. By the time you get to the online event, you will know which business schools offer the best fit for you.
Each 20-minute video meeting is an opportunity to impress a top international Masters or MBA programme and make them consider you for their class. Some of the most accredited schools will participate at the events: Bocconi, Bologna Business School, Hult International B-School, Nottingham Trent, American University, Brandeis, Henley Business School, and more.
Register for free for the Masters event: https://www.accessmasterstour.com/link/Lrx
Register for free for the MBA event: https://www.accessmba.com/link/Lry