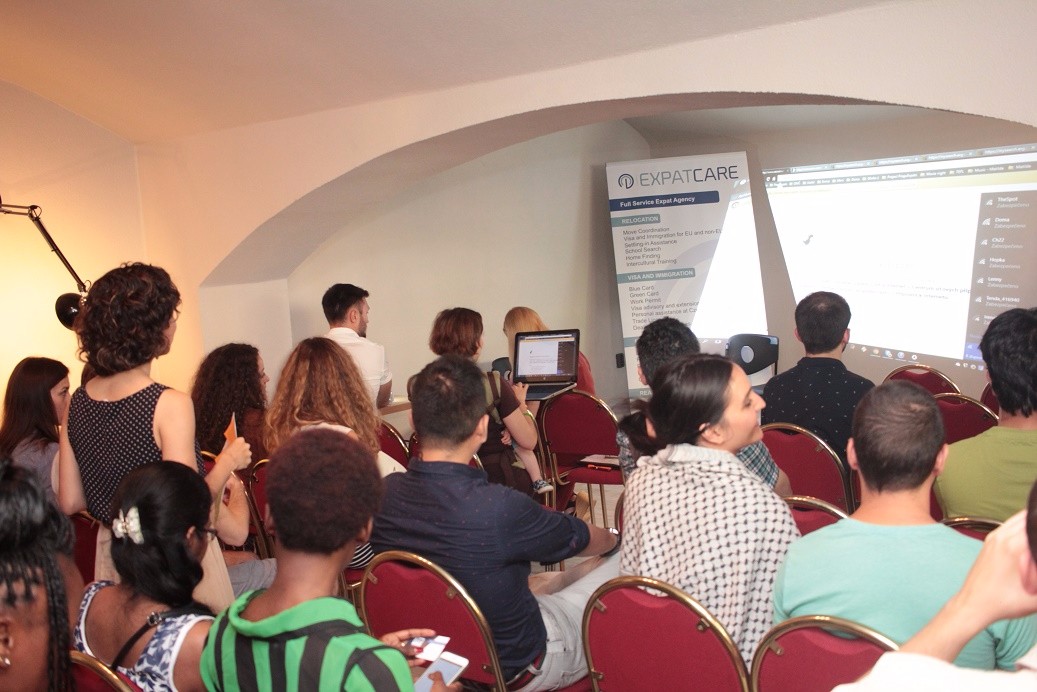 All You Need To Know About Job Search And Relocation To Prague: Workshop, June 2016
For those who missed our June workshop uncovering questions of living in Czech Republic as an expat, we will try to briefly summarize most important information on relocation and job searching in Prague provided by the guest lecturers at the event.
---
Workshop consisted of five parts, each one was dedicated to different topics related to life and work in the Czech Republic. Legal Employment, Employment Types, Hiring Process, or Taxation – those are some of the things that a person who relocates to Prague will face.
First presentation by Arseni Nesterov and Pavel Pyszko was focused on issues regarding Legal Employment in Czech Republic. The main question they were answering was "Employee Card, Blue Card, Work Permit – What They Are and How to Get Them!"
If you are dealing with these matters right now, don't hesitate to contact the professionals from Expat Care CZ.

Second session was held by our guests Mr. Björn Brosing, Risk Control Analyst from Prague's office of Amazon and Ms Hochun Hsu, Sales Manager from ACCUService that are currently hiring employees with English, German, French, Spanish, Italian, or Chinese for their Prague departments. See the job vacancies on our website (available in June-July 2016):
Next presentation by Daria Somova and Jan Kalina, founders of MoveToPrague.com, was dedicated to the Employment and Freelancing Visa Possibilities in Czech Republic and the difference between Work and Business Visa.
---
What are the main differences between holding employee card and freelance/business visa?
Work Visa or Employee Card:
One employer at a time;
Minimum salary level and minimum working hours;
Full responsibility of employer (taxes, social and health insurance, paid vacation);
Complicated process of a receiving that takes long time;
Only for long-term employees.
Freelance Visa or Business Visa:
Multiple employers;
No minimum salary level and minimum working hours;
No responsibility of employers;
Simple and rather quick process of receiving;
Duties of freelancer:
Tax return once a year;
Social insurance;
Health insurance.
The list of required documents to apply for the long-term visa can be found on Move To Prague website – movetoprague.com, or Ministry of Foreign Affairs of Czech Republic.
---
The last presenter, professional accountant Jana Veselá from Taxvision, held a lecture about Tax Aspects of Living in the Czech Republic. Taxvision has a special English-speaking department dealing with expat taxation issues.
The final session of the workshop included questions from the audience to the invited specialists. Questions included a list of issues connected with finding a job in Czech Republic, necessity of speaking Czech and problems related to visas, not avoiding such topics as discrimination and attitude of Czech authorities.
We would like to thank everyone who attended the workshop, it was great to see so many people and enjoy informal and friendly atmosphere together. Hopefully, next time we will be able to provide even more expats with useful information on relocating and job searching in the Czech Republic.
Additional thanks go to the guest lecturers, partners and a hosting organization Pexpats who provided us with the amazing place, Cafe for expats in Prague, The Spot. Special thanks to our wonderful host, Helen Pelipecki. All these people help foreigners to start their new life and find a job in Prague and Czech Republic:
 If you are now thinking about relocation to the Czech Republic, contact our partners, they can support throughout the whole process. Find a complete program of the workshop here.
Written by: Aleksei Popov
Recommended Reading:
Do you have tips or ideas for articles? Questions? Contact us via Facebook messenger!
Searching for a job in the Czech or Slovak Republic? Go to>> FIND A JOB