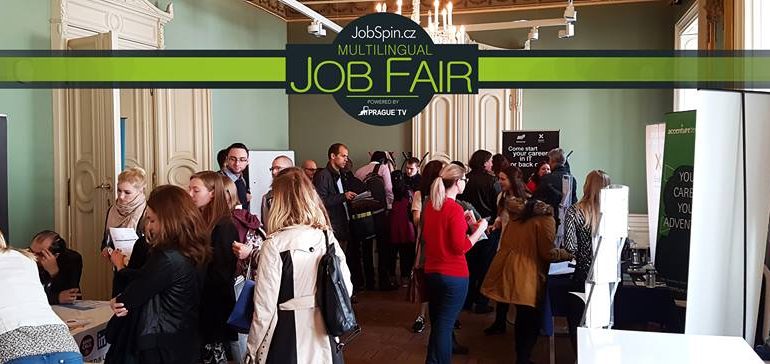 Third JobSpin.cz Multilingual Job Fair – Back in Prague
"Thank you. I think the Job Fair is a good idea for people who want to find the best job."

– Anonymous visitor of the job fair
The third JobSpin.cz Multilingual Job Fair Powered by Prague.TV took place last Saturday at Anglo-American University Prague. We can report: our mission – to connect employers with talented multilingual job seekers – was successfully accomplished!
More than 700 people showed up wanting to discuss job opportunities. The candidates got on-point career consultations at 19 companies and organizations – CDK Global, Crown Worldwide Group, HAYS Response, Experis, Manpower, NonStop Recruitment, AB InBev, Accenture, Amazon, Dorset Recruitment, Expedia, GoodCall, SAP Services, SELLBYTEL Group, SIRVA Worldwide Relocation & Moving, TABELLA, UtilityWise Prague, MoveToPrague.com, and Foreigners.cz.
You can find more information about all companies and recruitment agencies in our previous article: "I'm Not a Tourist in Prague" – JobSpin.cz Multilingual Job Fair, April 2017".
Having listened both sides – employers and candidates – we are expecting a lot of people to get call backs for the job interviews this week (and this makes us very proud and happy).
We asked the visitors to leave us written feedback. Many people came to seek a particular company or attend a presentation. The visitors mentioned they wanted to meet specifically representatives from AB InBev, Amazon, or Expedia. Among the most sought after presentations were "Creating Your Career Success" from Pepper de Callier, Senior-Executive Coach and Founder of Prague Leadership Institute, and the presentation about Employee Cards of Daria Somova and Jan Kalina, Relocation Experts from Movetoprague.com.
Read a few out of 30 written messages we got from the visitors on spot:
"Beautifully organized event, will come next time too, got a lot of information."

"More Research & Development type of jobs. Nice organization of the fair in general."

"I'd like to see more opportunities for part time jobs and internships."

"Really enjoyed the friendly atmosphere."

"Great lecture with Pepper de Callier! Great experience talking with representatives of Accenture."

"It's very nice that no one here required Czech language."

"More IT related."

"I'd like to see Microsoft and Google."

"Very nice. There could be more people representing companies."

"Thank you so much! It's a great event and it's really pleasure to be here! Very helpful stuff and people!"

– Victoria

"Would be interested in hosting a "Young Professionals" fair (introduction for networking, etc.)"

"I'd like to see Novartis."

"Best service ever has been provided! Big variety of companies from every single sector. Good job! 10 of 10! Keep up!"
Thanks to the visitors for their feedback! We'll try to follow your suggestion for the next events.
Did you miss the last Job Fair or maybe, do you want to have another opportunity to meet hiring companies? Don't worry! You can always catch up with the employers at the next JobSpin.cz Multilingual Job Fair Powered by Prague.TV on 21st of October, 2017 at Anglo-American University in Prague or stop by at JobSpin.cz Multilingual Job Fair Powered by Daily Monitor on 30th of September, 2017 in Brno. Looking forward to meeting you there!
For the freshest updates, follow the upcoming job fairs on Facebook:
Don't hesitate to leave us an on-line review or inquiry below the article.
Jobspin
Average rating:
0 reviews