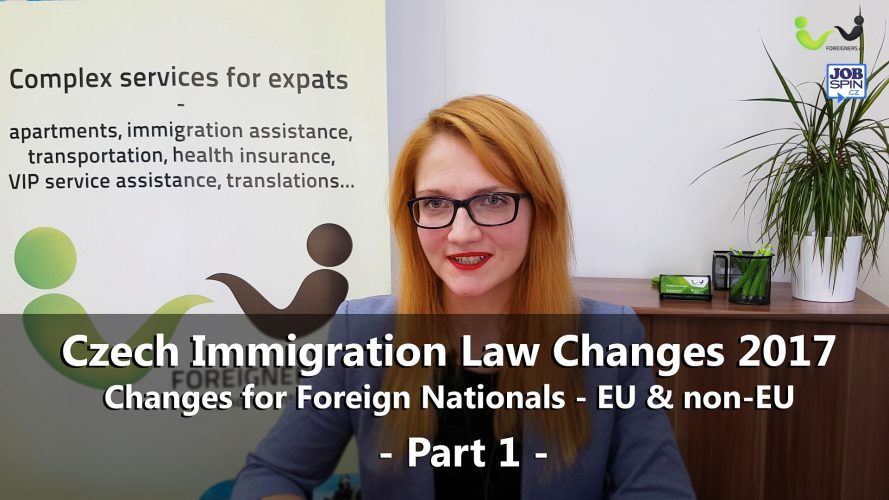 Czech Immigration Law Amendment Explained
August 2017 brought changes for foreign nationals in the Czech Republic in terms of residency status and running a business.
Employment and Business in the Czech Republic after the New Immigration Act Amendment – Kateřina Lenochová from the biggest Czech relocation agency Foreigners.cz explains (http://www.foreigners.cz/).
An applicant for renewal of Employee Card has the opportunity to find a new employment within 60 days of the termination of his or her employment, for which the employee card was issued to him or her, and to apply for an approval of the change of his or her employer no later than within this time limit.
One of the major modifications in the new Amendment refers to the possibility of switching the purpose of stay to business purpose.
Before August 2017, you could change the purpose after 2 years of living in the Czech Republic, but the newly implemented Amendment requires at least 5 years of residency (not applicable on family dependence visa).
You can apply for permanent residence after 5 years of your stay in Czechia. In the meantime, you can repeatedly prolong your business visa to wait out the 5-year period.
What does the new Immigration Law Amendment mean for the foreign nationals in the Czech Republic? Kateřina Lenochová from Foreigners.cz explains (http://www.foreigners.cz/).
Since August 15, authorities collect administrative fees exclusively in form of fee stamps (no cash or credit card) from third country nationals. Issue or renewal of a residence permit costs circa 700-1500 CZK, lower amount is charged to a person under 15 years old.
Application for issue of an employee card costs 1,500 CZK now and an employee card issue is for 1,000 CZK.
Related Reading
Immigration Law Amendment Controversy – What Are the Biggest Changes for Individuals?
Employment and Business in the Czech Republic after the New Immigration Act Amendment