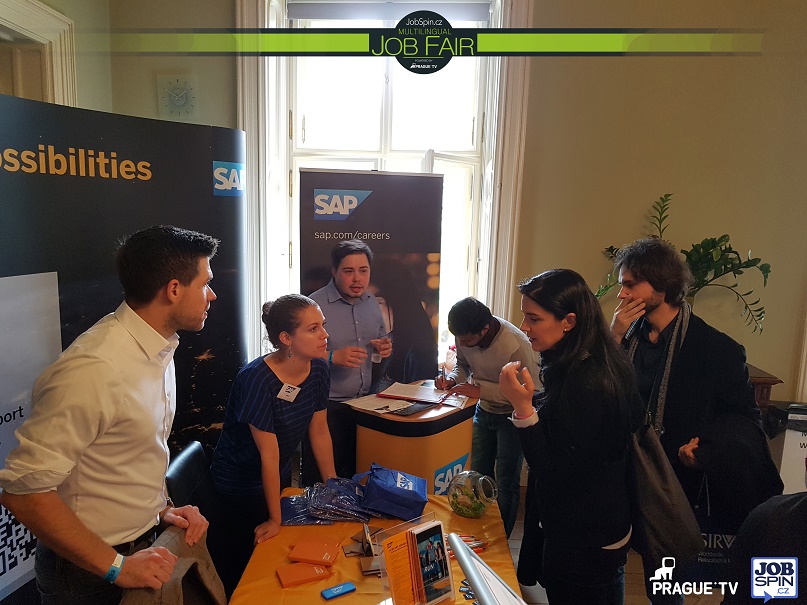 JobSpin.cz Multilingual Job Fair: job-hunting for multilingual vacancies in Prague
The next JobSpin.cz Multilingual Job Fair Powered by Prague TV takes place on the April 14, 2018. Photo: JobSpin.cz
Prague, Oct 24, 2017 – The third edition of JobSpin.cz Multilingual Job Fair Powered by Prague.TV took place last Saturday at the Anglo-American University at Letenská 5, Prague.
At the job fair, there were present twenty renowned international companies located in Prague that were enthusiastic to hire foreign talents. At the same time, the employers gave to the attendees valuable advice, for example, to improve their CVs and interview skills.
Multilingual Job Fair welcomed in a relaxed and friendly environment more than 600 job-seekers that looked for the chance to find a job and open their horizons.
"The main reason for people to come is to meet recruiters face-to-face and get a better idea on working at a company, rather than just blindly mailing out resumes to a corporate HR email address," Katerina Kukrechtova , the organizer of the event said.
"The event was great! I met a lot of personable people and got insight into what the participants are doing," one visitor wrote in a review.
During the event, companies held in total six interactive presentations about important issues to have in consideration when relocating and looking for a job in Czech Republic.
Kateřina Lenochová, the Expat & Immigration Consultant from Foreigners.cz, gave Tips & recommendations after relocating to work in the Czech Republic to the participants, while REED Recruitment Team's presentation, Have I made the right impression? Job interview mistakes you might not be aware of and how to avoid them, had a completely filled room!
On April 14th, 2018, JobSpin.cz organizes the 4th edition of Multilingual Job Fair in Prague. The organizers of the event expect the next job fair to be even more successful.
"There were so many visitors we almost couldn't keep up at the registration desk in the morning, and almost all companies told us they will be happy to participate in the next JobSpin.cz Job Fair in Prague or in Brno," Kukrechtova added.
If you attended Multilingual Job Fair in Prague, leave your online review here!