JobSpin Multilingual Job Fair in Prague – Program and Exhibitors
This Saturday, October 21, at JobSpin.cz Multilingual Job Fair Prague powered by Prague TV, you will have the opportunity to meet representatives from 20 world-known companies that want to fill their job vacancies with multilingual people from all over the world.
The event is perfect for foreigners and multilingual people who want to find a job or change their career path in Prague.
You can attend 6 presentations of experts in recruitment, HR or relocation matters. There is no entry fee.
A team of Manpower Group will provide free CV writing and interview prep consulting all day.
Visitors will receive a special Exhibition Guide booklet with the program and information about employers at the registration desk. You can find the list of exhibitors when you scroll down.
The entrance to the event is free for everyone. All you need to do is to subscribe at JobSpin.cz so you can get your free ticket in your email.
The event will be held this Saturday at Anglo American University, Letenska 5, Prague 1.
See you this Saturday, October 21 at 10 am – 4:30 pm.
DON'T FORGET TO BRING COPIES OF YOUR CV!

 Sign up for free here.
Program
10:00 – 10:45: Tips & recommendations after relocating to work in the Czech Republic.
Presentation: Kateřina Lenochová, Expat & Immigration Consultant – Foreigners.cz
Foreigners.cz will explain what you can expect after the arrival to the Czech Republic.
10:55 – 11:40: Benefits of working for a socially responsible company
Presentation: Vladimir Vrzhovski, Country Manager Czech Republic – Crown Worldwide Group
11:50 – 12:35: Have I made the right impression? Job interview mistakes you might not be aware of and how to avoid them.
Presentation: REED Recruitment Team – REED Specialist Recruitment
REED team will take you through the interview process step by step (tips, tricks, and funny stories included!).
12:45 – 13:30: A comprehensive look into an innovative consulting firm. Life is short, work somewhere awesome!
Presentation: Anna Svobodova, HR Manager – Alef&Maqroll
13:40 – 14:25: My journey with Accenture.
Presentation: Anna Siljanoska and colleagues – Accenture
Presentation is about everyday life with colleagues speaking 23 languages in Accenture office.
14:35 – 15:20: Tips to fast track your career in the International Company
Presentation: Tess Benoist – AB InBev
Exhibitors
AB InBev: Anheuser-Busch InBev is the leading global brewer and one of the world's top five consumer products companies. Beer, the original social network, has been bringing people together for thousands of years and our portfolio of well over 500 beer brands (Stella Artois, Corona, Hoegaarden, Leffe etc.) continues to forge strong connections with consumers.
Accenture: Accenture is a leading global professional services company, providing a broad range of services and solutions in strategy, consulting, digital, technology and operations.
We develop and implement solutions to improve clients' productivity and efficiency through 411 000 employees in 120 countries.
Alef&Maqroll: Established in 2014, Alef&Maqroll is an innovative consulting firm based in Barcelona. Surrounded by a young and dynamic environment where motivation and eagerness to grow professionally are highly valued. We work hard yet we know how to have fun as a team at the end of the day. Life is short, work somewhere awesome!
Amazon: AT AMAZON we don't wait for the next big idea to present itself.We envision the shape of impossible things and then we boldly make them reality. So far, this mind-set has helped us achieve some incredible things. So, if you're ready to pioneer, we're here to help you get there. Let's build new systems, challenge the status quo, and design the world we want to live in. We believe the work you do here will be the best work of your life.
BlueLink: BlueLink International CZ belongs to Air France Group and provides assistance in the field of luggage claims, loyalty programs, booking of flight tickets and other customer services related to the airline business. We have currently 500 employees from 50 different countries and speaking 20 different languages. Our business is growing rapidly!
CDK Global: At CDK Global we create careers, not jobs. And Global isn't just in our name, it's in our DNA. With people in over 30 countries worldwide we're leading the way in evolving the technology behind the automotive retail industry. That means transforming how people buy cars, trucks and boats all over the world. Join us and be part of the evolution.
Crown Worldwide Group: Crown Worldwide Group (crownworldwide.com) operates from over 265 locations in almost 60 countries, providing global mobility services, transportation of household goods and fine arts, departure and destination services, business information storage, high value warehousing, freight forwarding and third-party logistics. Established in 1965, the Crown Worldwide Group is a privately held company with global headquarters in Hong Kong. Crown is an equal opportunities employer and welcomes applications from suitably qualified candidates eligible to live and work in the Czech Republic. We are committed to diversity and to employee well-being, engagement and development.
Dorset Recruitment: A new and dynamic Prague recruitment agency Dorset Recruitment is your partner to solve your staffing needs in the Czech Republic. Now in our sixth year, we have been successfully placing talented employees into our client's companies across a wide range of different businesses and industries, both large and small. Our pro-active team of consultants seek to build long-lasting partnerships with our clients and genuinely find ways to add value to your hiring process and decision making. We recognize that each company is different and we are flexible enough to offer tailor-made solutions to fit with your business. We can assure you that our service will be responsive, practical, and importantly, provide the results that you need.
Foreigners.cz: Foreigners.cz is an agency providing complex relocation service for expats. We help to rent or purchase an apartment and go through all visa process, as well as to arrange health insurance, translations, transportation, language courses or business consultations. If a company decides to hire a foreign employee our agency can take care of the immigration procedures. Life is full of possibilities so let us know how we can share our knowledge with you!is an agency providing complex relocation service for expats.
Manpower Group: We don't just find jobs. We give you the power to work the way you want, reach for new opportunities and achieve your goals. After 40-plus years matching professional talent to satisfying career paths, Experis knows that it's not only what you can do that's important, but what you want to do. What inspires you. What fits your personal workstyle. And what works with your personal lifestyle. You need options. Experis has them.
Medtronic: As a global leader in medical technology, services and solutions, Medtronic improves the lives and health of millions of people each year. We use our deep clinical, therapeutic and economic expertise to address the complex challenges faced by healthcare systems today. Let's take healthcare Further, Together. Learn more at Medtronic.com.
Movetoprague.com: Your first friend in Prague! :) We are not only our clients´ relocation services provider, we are your first friend! We provide relocations services from A to Z, including the help with long term visas, long term and permanent residencies trade licence, flat hunting medical insurance, legal support and a lot of other fun!
PROSPERO: Interested in pursuing your career in one of the leading business intelligence companies in Europe? Are you ambitious enough to face the challenges of the competitive B2B business environment? Are you looking for a place where your efforts will lead you to immediate monetary gains and a chance at career growth and development within the organization? Keep reading then…
Prospero Events Group produces and organizes business conferences for the Energy industry in Europe. Our mission is to provide our clients with the opportunity to exchange strategic information. We are committed to producing innovative and industry tailored conferences dedicated to helping you achieve business excellence and gain the competitive advantage.
REED Specialist Recruitment: REED is the largest family run recruitment business in the world. We have Europe's biggest candidate database and every day we help people to find jobs they love. Our Multilingual Team provides a professional approach to recruitment of multilingual positions and positions in business centers (SSC & BPO sector).
We participated in establishing of brand new business centers in the Czech Republic and have experience with recruitment for junior specialists up to level of directors.
SAP: SAP resides in three affiliates in Czech Republic, SAP ČR and SAP Services. The approximately 350 employees currently working in two affiliates of SAP ČR take care, besides regular sales and marketing activities, of other highly qualified activities like research and development, consulting and implementation services and training. SAP ČR has regional representation in Prague, the affiliate in Brno work mainly as development and localisation center for middle and eastern Europe. SAP Services is based in Prague as well. It´s more than 1000 employees provide administrative services to SAP´s subsidiaries in Europe, Middle East and Afrika mainly in HR and finance administration field.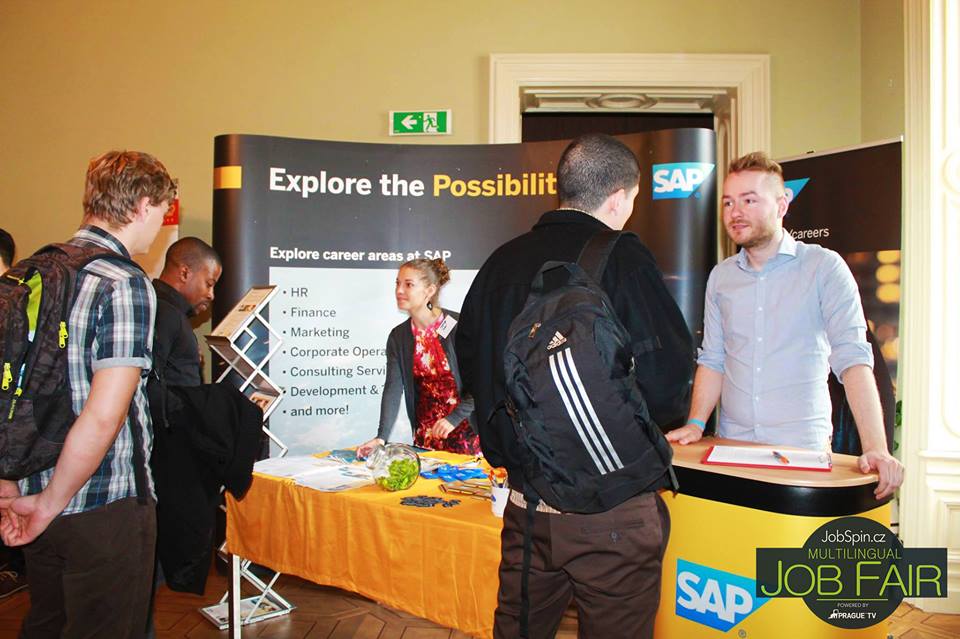 SELLBYTEL Group: The SELLBYTEL Group is one of the worldwide leading outsourcing specialists with headquarters in Nuremberg, Germany, employing more than 8,500 specialists at over 60 hubs, locations and local offices in Europe, Africa, Asia, North America and Australia.
Sirva: Sirva is a leading partner for global corporations who outsource their relocation and moving requirements for staff moving around the world. Sirva offers an extensive portfolio of relocation and moving services across approximately 170 countries, providing 'end to end' solutions that deliver an enhanced customer experience.
Tabella s.r.o.: We are a company focused on the fastest growing business – online Gaming, marketing & advertising, solar technologies, artificial Intelligence and charity projects. Dozens of websites.
Fifteen years of experience. Hundreds of employees.Thousands of players.