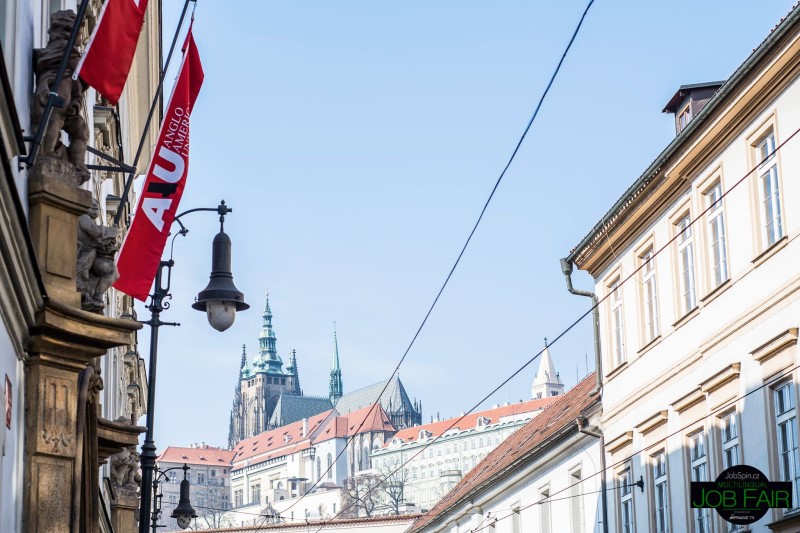 Get Ready to Start Your Career in Prague at the JobSpin.cz Multilingual Job Fair
This weekend, JobSpin.cz Multilingual Job Fair is giving expat job-seekers the opportunity to start their careers in Prague! Photo credit: Casadei Graphics
If you are multilingual and looking for a job in Prague, JobSpin.cz Multilingual Job Fair is the perfect event for you. The Job Fair will take place on November 3 at the Anglo-American University on Letenska 5, and is free to attend for all job-seekers!
Recruiters in search of multilingual professionals, students, and graduates will be there to meet you, from international companies based in Prague such as AB InBev, Accenture, Amazon, CDK Global, Comdata Group Czech Republic, Czech Courses, D-ploy, Grafton Recruitment, s.r.o., MONSTER CARRER CZ, Move To Prague, Resource Solutions, SAP Services, s.r.o., SIRVA s.r.o., Socialbakers, TABELLA s.r.o., and Utilitywise.
Throughout the event, you can look forward to presentations aimed at job-seekers, help and advice from experts on relocation and expat life in the Czech Republic, and a public debate featuring Janek Rubeš, presenter of the well-known YouTube series "Honest Guide". Relocation experts Move To Prague and language school Czech Courses will also give presentations at the event, about employment in the Czech Republic and a trial Czech lesson respectively. See the program and register at the official website of the fair.
Don't forget to bring your CV to give to the company recruiters at the Job Fair, and for the CV consultations offered by Grafton Recruitment.
Find more info on the official website: https://bit.ly/2mK5cHF