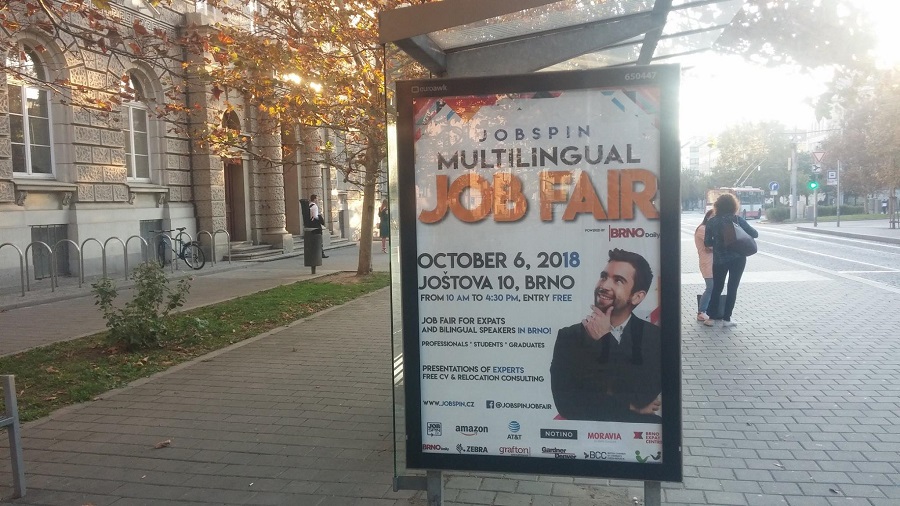 Saturday 'JobSpin Job Fair' To Connect Brno's Expats and Employers
The Czech economy is booming, and the unemployment rate is the lowest in the European Union. That means many companies are looking to fill positions. Brno, the country's second-largest city, has become a high-tech hub with many multinational companies in need of people with language skills. JobSpin Multilingual Job Fair Powered by Brno Daily takes place Oct. 6 at the Faculty of Social Studies of Masaryk University from 10 am to 4:30 pm. Photo credit: JobSpin.
Written by Raymond Johnston
The job fair is aimed at candidates with excellent language skills and an international education or work experience. Different companies have various needs, and Czech often is not required. Native speakers of not only English, but other European and world languages can find opportunities.
"The companies that will be there will be looking for people with foreign language skills. You don't need Czech to find a job there," festival organizer Kateřina Kukrechtová said.
People should bring CVs or résumés and be prepared to discuss openings with company representatives. The fair will also have free consulting panels. "Trained recruiters will help you to polish your CV and also with interview preparation," she added.
"We are also preparing a special program where relocation experts and company representatives will be holding a series of presentations," she added. Topics will include the ups and downs of expat life in Brno, in addition to practical issues.
The schedule of the panels and discussions can be found on the JobSpin website. "Print out your CV, come to JobSpin Job Fair and meet your future career," she said.
The fairs are free of charge for all bilingual and expat job seekers. People can register in advance online (register here). Sectors that will, in particular, have opportunities are IT, logistics, HR and recruiting, marketing, tech support, engineering, customer service, administration, accounting and finance, sales, journalism, and copywriting.
Exhibitors announced so far include Amazon, AT&T Global Network Services, Zebra Technologies CZ, Grafton Recruitment, Gardner Denver, Notino, RWS Moravia, Oracle NetSuite, Global IT Center, Infosys, Brno Expat Centre, Foreigners Brno, JobSpin, Brno Daily, AIESEC, Czech Courses Brno (language studio).
If you are not in Brno, there will be a similar event in Prague called JobSpin.cz Multilingual Job Fair Powered by Prague.TV on Nov. 3.
Unemployment in the Czech Republic in the second quarter of 2018 was 2.2 percent, according to the Czech Statistical Office (ČSÚ).
The Ministry of Labor and Social Affairs uses different methodology and for August said the unemployment rate for the country was 3.1 percent, with Brno at 4.6 percent and Prague at 2.2 percent.
Program
10:15-11:00 "HOW CAN CALIBRATION SESSIONS IMPROVE MODERN CUSTOMER SERVICE?"
"Since the quality of communication is essential in Customer Care environment, you will have an opportunity to see how quality assessment calibration sessions are prepared and conducted for CSC."
Speaker: Vanja Stojkovic, Customer Centre Training Team Leader at Notino, s.r.o.
11:10-11:55 "BUSINESS SERVICES IN BRNO – WHAT DO RECRUITERS LOOK FOR?"
Topics:
– Overview of general jobs market in Brno/South Moravia
– Sourcing & Applications (having a professional-looking LinkedIn, how to search for jobs etc.)
– How to write and structure a CV
– What skills do employers look for?
Speaker: Sam Beaton, Recruitment Consultant at Grafton Recruitment, s.r.o.
12:05-12:50 "RELOCATION GUIDE – NOT ONLY AN ACCOMMODATION GUIDE IN BRNO/CZECH REPUBLIC"
Speaker: Taťána Raszková, Relocation Consultant at Foreigners Brno
13:00-13:45 "LOCALIZE YOURSELF AT MORAVIA: AN RWS COMPANY"
Speaker: Aleš Pacner, Talent Acquisition Partner at Moravia: An RWS Company
13:55-14:25 "TAXATION OF SALARY IN THE CZECH REPUBLIC, THE SYSTEM AND THE LOOPS"
"First, we will establish who is a tax resident in the Czech Republic and how can you get a confirmation of your tax domicile. Then the presenter will explain how is an employee's salary taxed in the Czech Republic, when you can ask your employer to lower your taxes and what other world-wide income is considered for taxation. Finally, we will talk about deductible items from the tax base and tax allowances for spouse, child, kindergarten etc."
Speaker: Jan Kopkáš, Senior Consultant and Manager at Brno Expat Centre
14:30-15:15 "AT&T U-VERSE OPPORTUNITIES"
"An overview of opportunities within the AT&T U-verse Technical Support Center in Brno. A description of the history, roles and growth opportunities within one of the largest AT&T organizations in Brno."
Speaker: Jon Shepherd, Jerry Odogwu, Godwin Awuah, Frederika Adamcikova. AT&T Global Network Services
15:30-16:15 PANEL DEBATE: "THE UPS & DOWNS OF EXPAT LIFE IN BRNO AND CZECH REPUBLIC IN 2018″
Participants: Daria Somova and Jan Kalina – Relocation Experts, founders of Move To Prague, six years in the business; Sergio Bellini, owner of the restaurant "Castellana Trattoria" in Brno, Italian expat and candidate in municipal elections in Brno-center district (Piráti); Marie Knapp, founder of Czech Courses (2011), Czech language school for foreigners.
For more information visit the official website of the JobSpin Job Fair or the Facebook page.