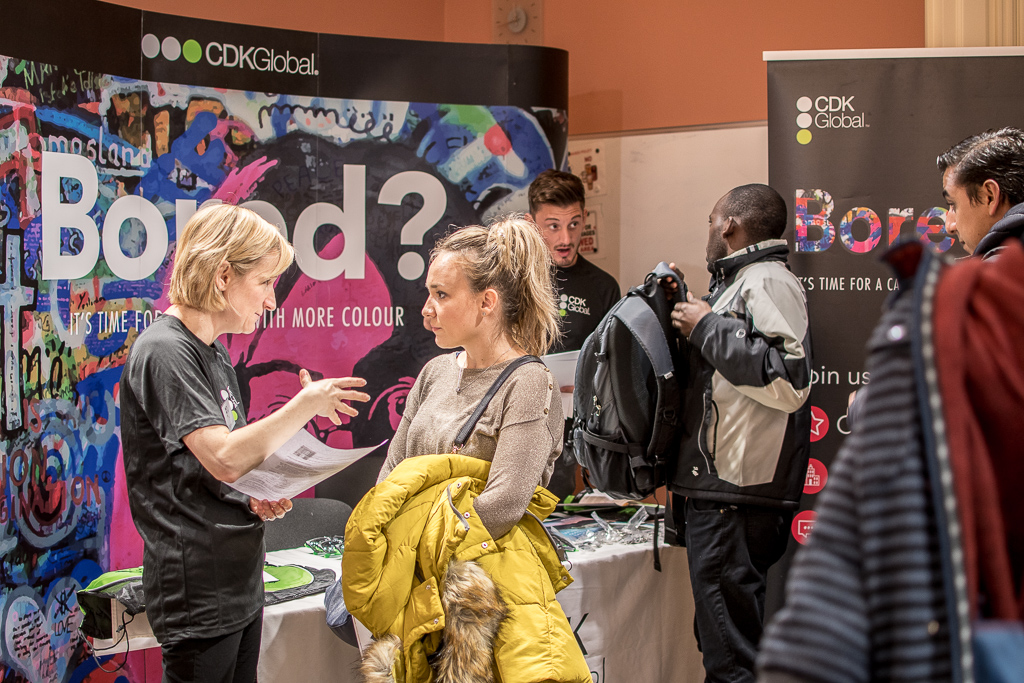 The 5th Multilingual Job Fair in Prague Welcomed over 700 Visitors
Jobspin organized the 5th edition of the Jobspin Job Fair in Prague on the first Saturday in November. The specialised job fair for expatriate and bilingual job seekers took place at the Anglo-American University as always. Title photo: CDK Global. // Photo credit: Casadei Graphics.
Despite the gloomy cloudy weather, more than 700 participants attended the event.
Most of the participants were satisfied when leaving the event, having taken the opportunity to get insight into the various companies' working environments and meet their potential future colleagues. According to Ben, the Jobspin Job Fair was: ''A nice experience. Great chats with companies here. I even got half job offers. Prague is great. Keep up the good work," Another visitor, Vuk, said: "I really enjoyed the time spent at the Jobspin fair, I've talked with a lot of people who gave me useful information. I am looking for a job at the entry level – changing profession, and they gave me good feedback and such."
The fair included presentations for job-seekers, assistance for foreigners from relocation consultants, and free professional consultations regarding CV writing and interview preparation. This year, Czech Courses even ran a Czech language class.
The majority of attendees were speakers of English, Spanish, Dutch, German, French, Hindu and Chinese. Most of them were looking for entry-level positions in the city, having already completed their first studies and work experience in their home countries or other countries in Europe. The community that gathered at Anglo-American University the first weekend in November was truly international.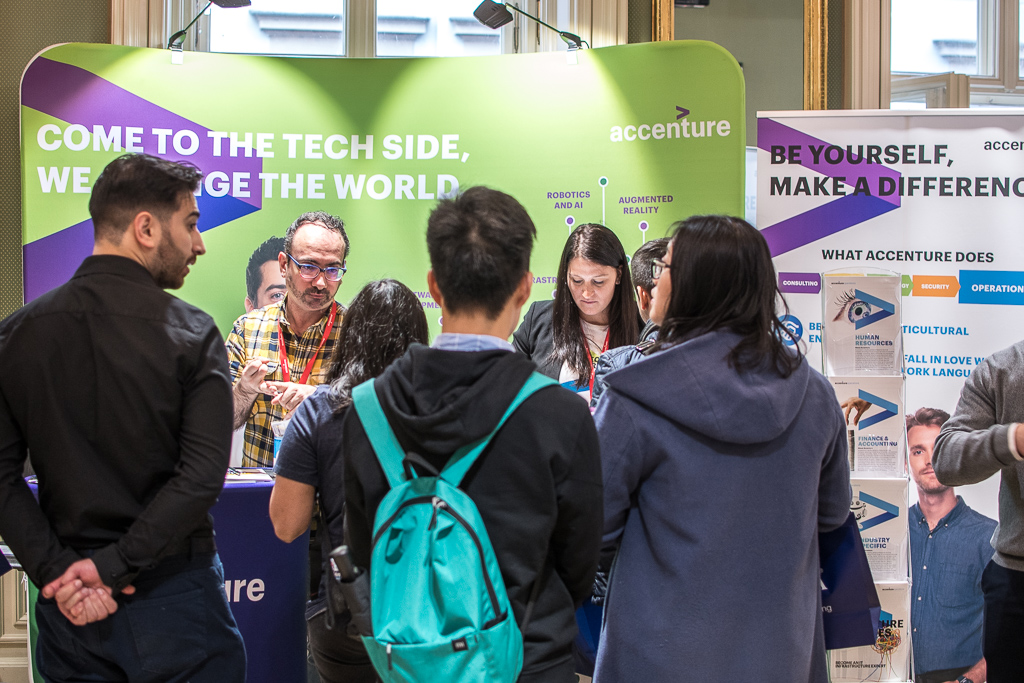 Accenture at JobSpin Job Fair. // Photo credit: Casadei Graphics.
JobSpin Job Fair hosted well-regarded international companies with branches in Prague such as AB InBev, Accenture, Amazon, CDK Global, Comdata Group Czech Republic, Czech Courses, D-ploy, Grafton Recruitment, s.r.o.,MONSTER CAREER CZ, Move to Prague, Resource Solutions, SAP Services,s.r.o.,SIRVA s.r.o., Socialbakers, TABELLA s.r.o., and Utilitywise. The complete list of participating companies and partners of the event is available in the online version of the Exhibition Guide for visitors.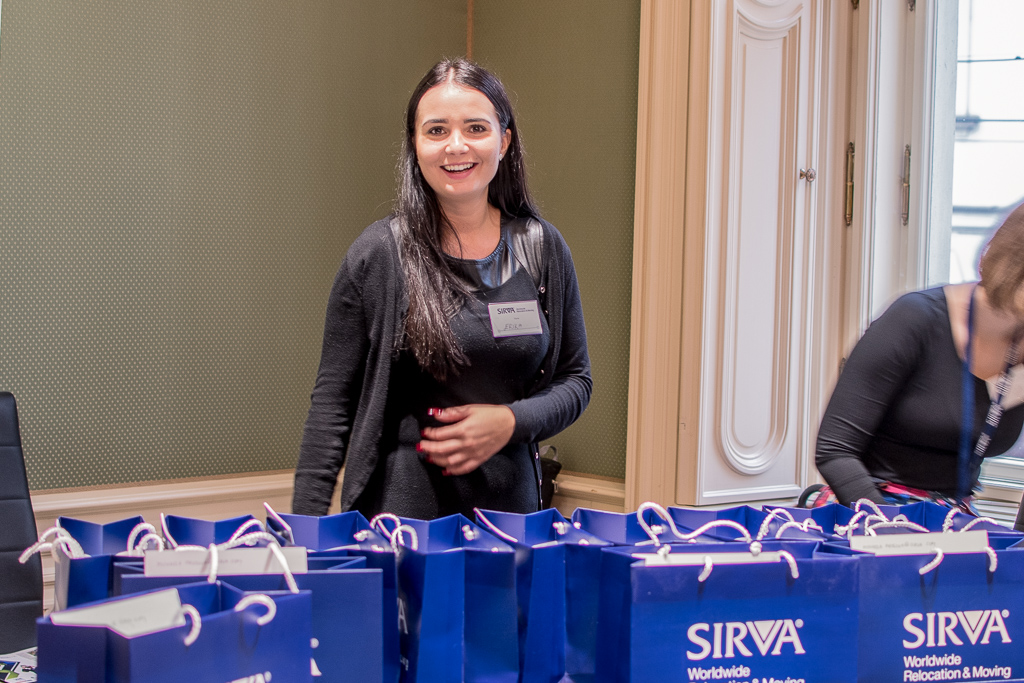 SIRVA at Jobspin Job Fair.  // Photo credit: Casadei Graphics.
The highlight of the event was an interesting discussion with Janek Rubeš, known for the popular YouTube series Honest Guide, about life in Prague.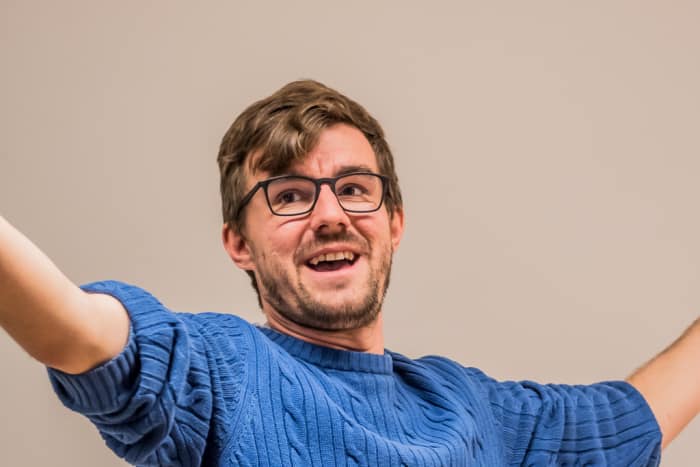 Janek Rubeš at Jobspin Job Fair.  // Photo credit: Casadei Graphics.
Jobspin Job Fair takes place every six months in Prague (more info) and Brno (more info).
See the photo gallery!  // Photo credit: Casadei Graphics, Jobspin.cz.