Career Guide: All About Part-Time Jobs in the Czech Republic
Before looking for a job, it's important to choose the type of contract that best suits your needs. Part-time positions often allow you to gather the experience you need before moving forward, or just give you enough money and time to take care of yourself and your loved ones. Photo: Stock picture / Freepik.
For many people, not all the jobs are the same. Some people prefer 9-to-5 office jobs, some people prefer to get their hands dirty on something practical. Some of us are workaholics who won't stop working until everything is done forever, others are fine with working fewer hours per week.
According to Eurostat data, 19.4% of the contracts are part-time in the European Union. At the same time, some jobs are often seen as inherently low quality jobs. Part-time jobs especially are often considered as a last resort – something you would be forced into by necessity, rather than a voluntary choice.
In many countries, especially the ones in Southern Europe where the economic crisis hit harder, the majority of the part-time workers would rather have a full-time employment. The best examples are Greece, where 70.2% of the people employed part-time would rather have a full-time position; Cyprus (67.4%); Italy (62.5%); and Spain (61.1%); against a European average of 25.6%.
On one hand, people would often like to work more hours to achieve a higher economic stability; on the other hand, it is quite often that employers can't offer full-time positions, because they can't afford to hire people full time.
This is often connected the notion of underemployment: a person working part-time who would like to work additional hours, is available to do so but cannot. According to Eurostat data, the percentage of underemployment is higher in Cyprus, Spain and Greece, in line with data regarding involuntary part-time work.
Some countries are therefore characterized by a high amount of workers employed in a part-time job for fewer hours than they would like. Some countries instead have better statistics: Czechia has the lowest rate of underemployment and unwilling part-timers in Europe.
On average, Czech part-timers work 21.5 hours, according to the data gathered by Eurostat, one hour more than the EU average.
Info-graphics: Overview of Part-Time Jobs in the Czech Republic. Jobspin, 2019.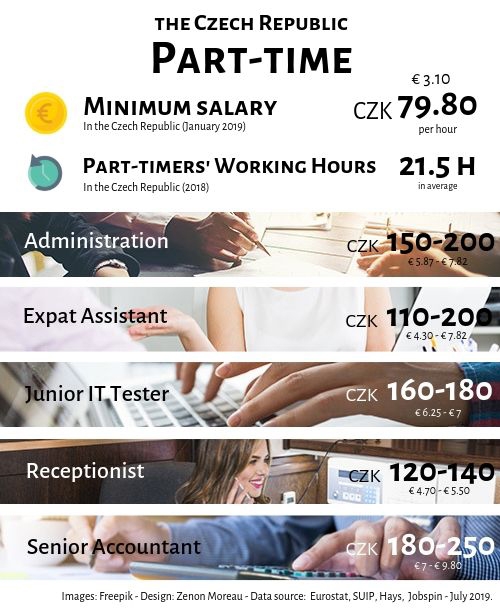 Reasons for a Part-Time Job
Working part-time can be a voluntary respectable choice, especially when you are a student or have children at home, or for any other personal reason. A part-time job allows you to pay for your own expenses while giving you the time you need to study and take care of your loved ones. And, even if you have already left the university, you can use that time to study by yourself and improve in the field of your choice.
You shouldn't forget that all jobs require skills that you often couldn't get and/or improve during your studies. You could therefore accept a part-time job offered by an attractive employer, rather than a full-time one in a less attractive company. Sometimes, it is better to start small and build your way up to your dream.
A tendency that has increased over the last few years is to work multiple part-time jobs or running a side-hustle, rather than working at a single full time position. It may sound counter-intuitive, but you might end up earning more money this way.
What is the Salary for Part-Time Jobs in the Czech Republic?
Is a part-time job paid less than a full-time one? Logically, you would think that it represents only half of a full-time job wage, but you will be surprised that many companies increase the part-time salary to attract job seekers.
Thus, according to the data published by Hays in 2018, you can earn between CZK 160 (€ 6.25) and CZK 180 (€ 7) per hour as a Junior IT Tester; between CZK 180 (€ 7) and CZK 250 (€ 9.80) as a Senior Accountant; between CZK 120 (€ 4.70) and CZK 140 (€ 5.50) as a Receptionist; and many more various positions.
The current minimum salary per hour in the Czech Republic established on January 1, 2019 is CZK 79.80 (€ 3.10) (data here).
Finding a Part-Time Job in Prague, Brno, or Czech Republic
For all these reasons, have you finally decided to find a part-time contract in the Czech Republic?
We recommend you to look for part-time jobs on Jobspin, a job board website made specifically for foreigners. Add it to your favorites links to be up-to-date on part-time, internship, freelance, and full-time job offers in the Czech Republic. Going to multilingual job fairs we organize in Prague and Brno every six months is also a good solution to meet recruiters in person.
Today (July 17, 2019), we have found some offers that are available for you, which require 20 hours of work weekly:
Want to work more than 20 hours per week ? Check these positions:
You can find, browse, filter, and apply to hundreds of up-to-date job offers in Prague and Brno on this page: Find A Job.
The tips for people who would like to find a part-time job in Prague or Brno were prepared by the Jobspin team: a mix of interns, graduates, and university drop outs. Like what you're reading? Subscribe to monthly news highlights in the Czech job market and economy – Newsletter Sign Up. Stay tuned – more reading is coming next week.
Prepared by Zenon Moreau and Manuele Siciliano.
Career Guide: Part-time or Full-time Job?
Average rating:
1 reviews
Aug 5, 2019
Need job
I NEED A JOB.