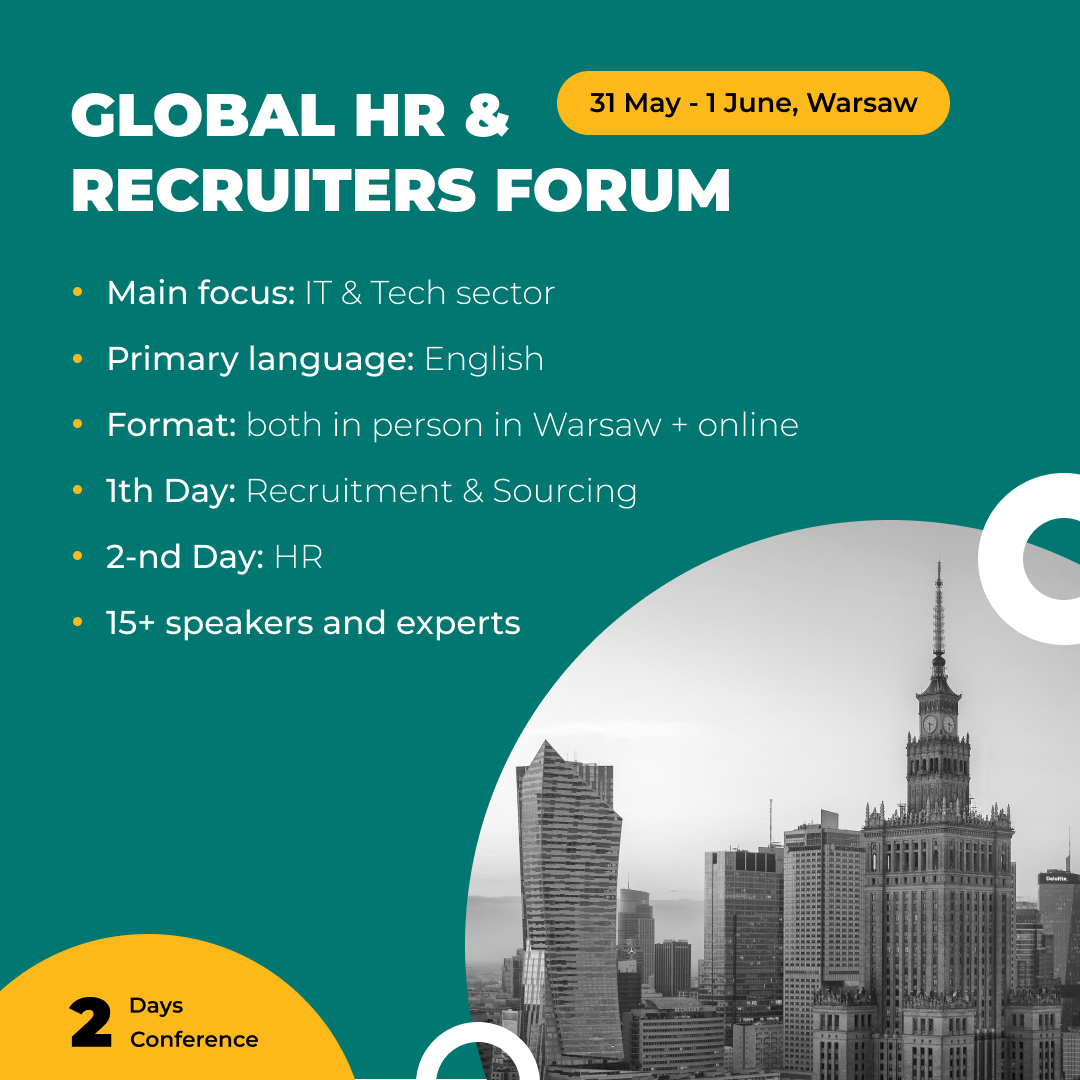 The largest specialized Conference for IT HR and Recruiters in Western Europe will take place in Warsaw 31 May – 1 June.
The Global IT HR & Recruitment Forum will take place from  May 31 till June 1, 2023, in person in Warsaw and Online participation available.  The first day will be focused on "IT Recruitment & Sourcing", the second day: HR & Employer branding topic. 
Each participant can choose which day to participate. 
It's the only one specialized Forum in Europe with the main focus on the IT & Tech field. 
History preceding the Global HR & Recruitment Forum:
The project is powered by the "Because Talents Matter" Community, which was created by enthusiasts in 2014 in Ukraine. During 9 years, more than 12  International Professional Conferences were conducted.   
International IT HR Forum became  the largest conference for IT HR and Recruiters in Western Europe. Participants from more than 9 countries arrive to visit the Forum every year (450+ participants before the COVID-19 outbreak).
ABOUT THE FORUM:
It will connect specialists from different countries and boost the inspiration and practical skills of everyone! The main idea — to create high quality specified information with cases and practical tools for every Forum participant.
The Forum is comprised of:
held for 2 days. First day: Recruitment & Sourcing. Second Day: HR Day. (*You can choose which day participate)

15+ top experts from all over the world 

specialized topics (sourcing, candidate experience, AI, candidate outreach, mental health) 

2 options for participation:  in person in Warsaw, online
Speakers, who already confirmed their participation in the Global HR & Recruitment Forum:
–Karen Azulai, Karen is a multidisciplinary professional, always passionate about emerging technologies and their impact on sourcing and recruitment. 
– Kasia Tang, Co-Founder & Trainer at Super Source Me. 
– Sofia Broberger, freelance sourcing and recruitment consultant focusing on IT/Tech recruitment.
– Karolina Sokołowska, Recruitment Operations Manager at Bee Talents 
– Katy Peichert,  Leadership & Strategic Talent Development for start ups & scale ups. 
– Adam Piwek, Employer Branding Manager, dmTECH. 
Social impact: 
50%
of the income will be directed to support the Ukrainian army and humanitarian aid.
For more details please visit our website: https://ithrforum.eu/