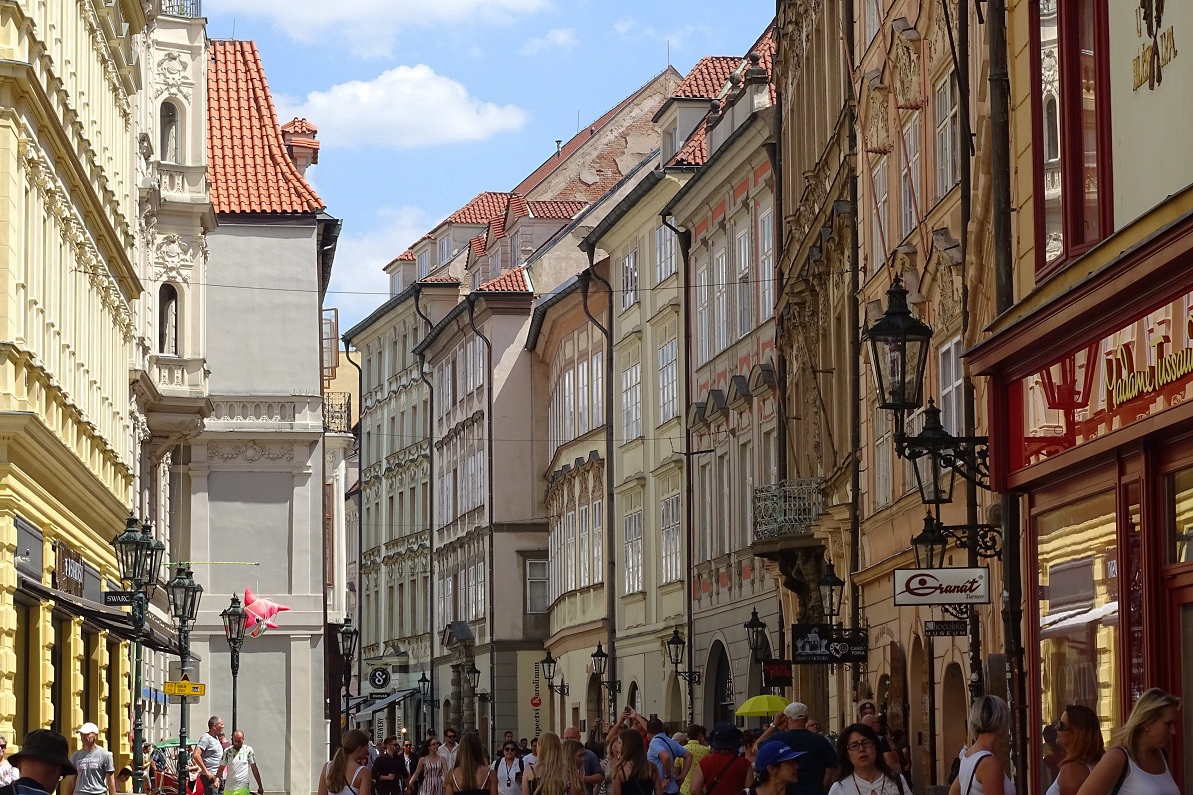 House Prices in Czech Republic Showed Third Highest Increase In The World in 2019
According to the Global House Price Index 2019, a report by real estate consultancy company Knight Frank, house prices in the Czech Republic have skyrocketed, showing the third highest annual increase of the 56 countries included in the report, which used official government statistics and central bank data. Photo: Prague / Credit: ZM, Jobspin.
Global Situation in Housing
For the first time ever, China topped the list with a 10.9% increase, with Malta a close second with 10.8%. Across all 56 countries included in the survey there was an average rise of 3.4%, with 93% registering either static average prices or growth.

Source: Knight Frank
Property prices in Europe showed slower growth, with some exceptions in Central and Eastern Europe, such as Austria (7.3%) and Bulgaria (7.3%).
Property Prices Trends in the Czech Republic
Between the second quarter of 2018 and the second quarter of 2019, Czech house prices have risen up to 9.4%. Moreover, in the second quarter of 2019, the growth of property prices in the Czech Republic reached 1.7% (three month percentage change from Q1 to Q2), whereas in the first quarter of 2019 there was a 3.6% increase (six month percentage change from Q1 to Q2).
In the Czech Republic, housing prices are rising faster than rent prices, and as a result landlords who rent their property are getting overwhelmed. According to the Prague website Expats.cz, less than 4% of homeowners who rent their properties earned a gross rent for the whole of 2018 on a new apartment in Prague.
Housing Situation in the Czech Regions and Cities
Research from the consulting firm Deloitte shows that from 2014 to the second quarter of 2019, prices of apartments in Prague and regional capitals have increased by an incredible 159%.
House prices in the Czech Republic keep rising every quarter, and at the same time the overall supply of houses is shrinking, with just 6,300 flats currently available for rent in Prague, 30% less than in 2017.
In October 2019, the value of flats increased by 4.8% quarter-on-quarter. The Karlovy Vary region reported the biggest increase in flat prices (+6.7%), followed by Ústí (+6.3%), and Zlín (+3.6%).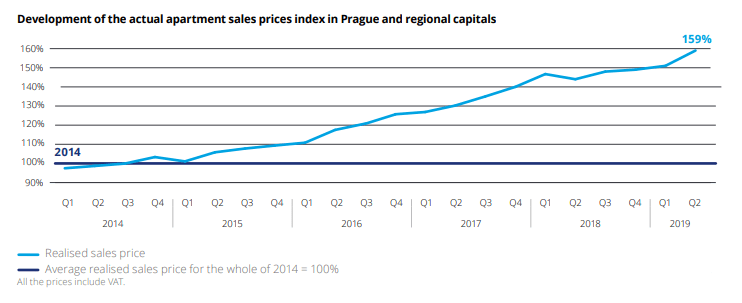 Source: Deloitte
In terms of distribution, Prague was the city that saw the most property purchases in the Czech Republic, with 61.2% of the national total for the second quarter of 2019.
Following Prague were Brno (10.2%), Plzen (4.4%), Olomouc (3.3%), and Hradec Králové with 2.9%, while 18% were spread across the other Czech cities and municipalities.
On a district level, Prague 4 and Prague 9 were the places with the highest average price rises between the first two quarters of 2019, with +11.9% and +10.4% respectively.

Source: Deloitte
Choking Red Tape
According to analysts, the main reason for the rise in house prices is that there is always continuous demand, but inadequate supply of property. The bureaucratic procedures necessary to obtain a building permit are another important factor. According to the annual report Doing Business 2018 of World Bank Group, the Czech Republic ranked 127th out of 190 countries for ease of getting a building permit. Regarding the length of time it takes to get a permit, the Czech Republic is in 165th place, with an average of 247 days.
As a result, real estate prices have risen gradually since the last quarter of 2016. The highest growth in real estate was in the second quarter of 2017, with a 13.3% price rise for houses and apartments.
Other reasons for house price increases are the affordable cost of living and the low unemployment rate – making Prague and Brno very attractive destinations for living. For example, Prague is less expensive than other main European capitals, such as Berlin or Rome. According to the 2019 edition of the annual cost of living survey by consultant Mercer, Rome is the 55th most expensive city to live in, Berlin is the 81st, while Prague stands in 97th place, dropping 14 spots from 83rd position in 2018. This index compares the cost of living and rental accommodation costs in general, and is based on a survey conducted in March 2019.
Public transportation is also inexpensive; last year's survey by political news site Politico.eu found that public transport in Prague is the third cheapest in Europe. Markets, restaurants, and basic utilities are quite affordable too. According to Numbeo, a meal in a cheap restaurant/pub costs about 150 CZK (5.88 €), 1 litre of milk costs 19.20 CZK (0.75 €), and basic utilities for a 85m2 apartment are priced at 4.350 CZK (170 €) (date of conversion: 4/11/19). Domestic beer, for which the Czech Republic is well-known, costs only about 16.93 CZK (0.66€) at the supermarket.
Living standards in Czech Republic are gradually improving thanks to continuing wage growth and the low unemployment rate, which stands at 2.7% (Oct. 2019). The unemployment rate shows no sign of rising any time soon, and will remain static in the following months. In recent years, the Czech Republic has seen an ever-growing number of expats: over 564,000 people in 2018, according to Czech Statistical Office.
The infographic below shows the difference in cost of living in Prague and Brno in 2012 and 2019.
This article was prepared by Thanasis Papadopoulos.
TIP: The Czech economy has been booming for the last few years, and maybe you are thinking about moving here. Yet, you are worried: what are the best paying jobs in Prague? Which field has the best salary? Should you move to Brno instead? In this article "Career Guide: Jobs And Salaries In Prague And Brno By Sectors And Positions In 2019", we will give you an overview of the salary levels and economic situation in the Czech Republic, to help you find the best solution for your career.
The news and tips for people who would like to find a job in Prague or Brno were prepared by the Jobspin team: a mix of interns, graduates, and university drop outs. Like what you're reading? Subscribe to monthly news highlights in the Czech job market and economy – Newsletter Sign Up. Stay tuned – more reading is coming next week.