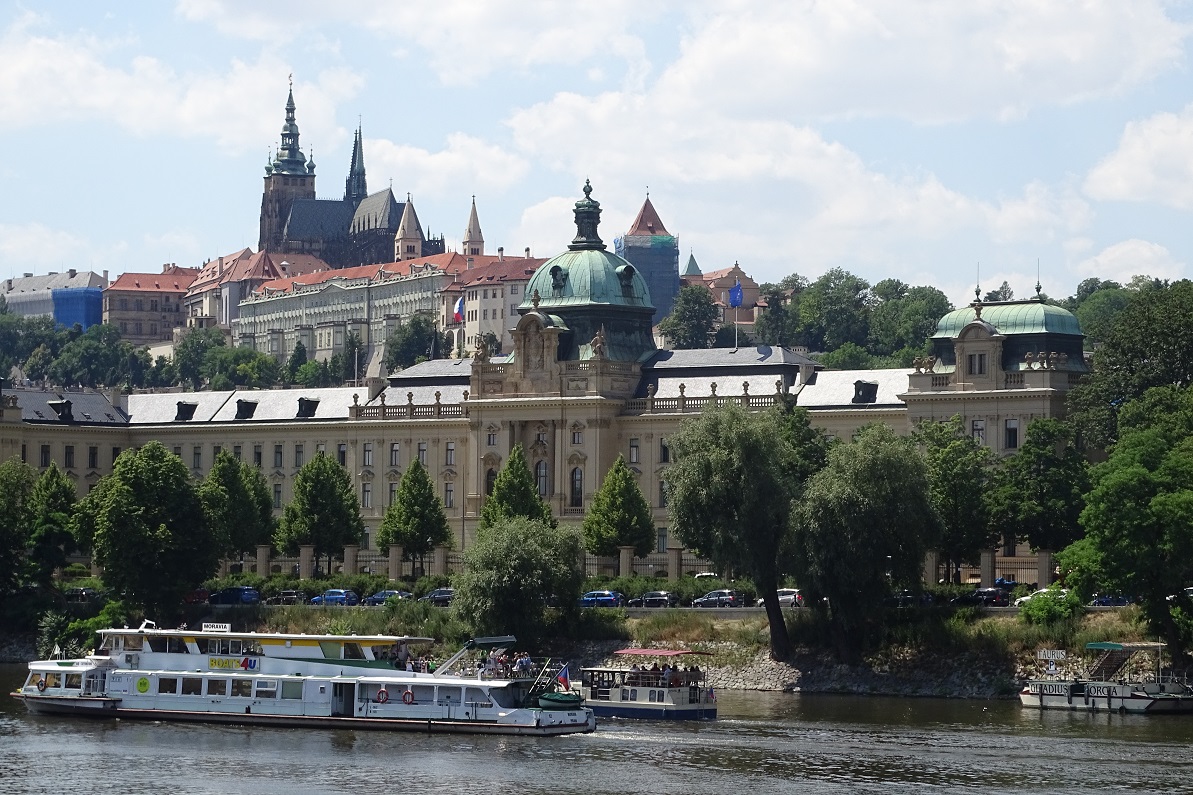 Career Guide: Jobs And Salaries In Prague And Brno By Sectors And Positions In 2019
The Czech economy has been booming for the last few years, and maybe you are thinking about moving there. Yet, you are worried: what are the best paying jobs in Prague? Which field has the best salary? Should you move to Brno instead? In this article, we will give you an overview of the salary levels and economic situation in the Czech Republic, to help you find the best solution for your career. Photo: Z. Moreau.
Prague / Brno, Aug 12 (JS) – The economy in Czech Republic seems to be a non-stop machine. In the last few years, both GDP and salaries have kept growing, reaching a new all time high almost every year. As we reported in one of our previous articles, the average gross salary reached CZK 32,466 (EUR 1,262) in the first quarter of 2019; in 2011, the average Czech salary was CZK 25,625 (EUR 996), around CZK 8,000 (EUR 311) less than today. The median wage is now CZK 27,582 (EUR 1,163); it stands at CZK 29,936 (EUR 1,172) for men, and CZK 24,982 (EUR 971) for women.
This growth has not just been happening in the capital; although salaries in Prague are still noticeably higher, all regions have registered a proportional increase in their average wages in the last few years. Some regions have reported a slower increase than others; the Moravskoslezský Region has grown by CZK 6,455 (EUR 251) since 2011, CZK 1,604 (EUR 62) less than the national average increase of CZK 8,059 (EUR 313) for the same period.
But is the growth in salaries directly linked to an improvement in the quality of life? It's not so easy to say; the data provided by the Czech Statistical Office indicates that the country's gross domestic product has increased by 2.6% from last year, but the prices of various consumer goods and rents are rising as well.
This year, Czech housing prices were the second fastest growing in Europe, right after Hungary. Nevertheless, living in Prague is still cheaper than living in other European cities.
In our previous article "Are Wages in Czech Republic as Bad as People Say?" we analyzed the data provided by Numbeo – a crowd-sourced global database of reported consumer prices – and compared the cost of living in the Czech capital with other European capitals such as Berlin, Paris and London. We have come to the conclusion that finding a good job in Prague is still a good investment.
Cost of Living Index (July 2019, Numbeo.com).
Once that you know that living in the Czech Republic is affordable and feel that it is overall a good choice, you have to pick the city where you are going to live. Prague, with around 1.3 m inhabitants, is the capital and the richest city in the country, where many international companies have their headquarters. Brno, on the other hand, is the second biggest city. With merely 380,000 residents, it is indeed much smaller, but at the same time around 25% cheaper to live in and with similar employment opportunities.

Comparison between apartment prices in Prague and Brno (July 2019, Numbeo.com).
But what about salaries?
Overview: Salary Levels For Selected Jobs in Prague and Brno in 2019
Having a good knowledge of the Czech job market can therefore be fundamental for your future or current life in the Czech Republic. Knowing what the average wage is in your region can confirm your desire to move somewhere else, or show you that the right job for you might be just around the corner, and you just have to keep looking.
We decided to compare the salaries in the two biggest cities in the Czech Republic, Prague and Brno, to help you make the best choice for your present and future career. As you will see, there is a difference in salaries (jobs in the capital are paid better) but as we have seen above, life in Prague is more expensive as well.
In the tables below, you will find a comparison of salaries in Euros in Prague and Brno to help you find the best job for you. The salaries marked as minimum state the most common entry-level or lowest salaries offered per month, in Euros. The minimum values marked with * are based on the level of education – the candidate has not passed the school-leaving exam. The maximum column reflects a candidate's skills and experience (generally at least three years in the field) as well as the employers' willingness to pay. The maximum values marked with * refer to the salary levels of candidates with university education
IT Jobs
Prague
Brno
Role
Minimum (EUR)
Maximum (EUR)
Minimum (EUR)
Maximum (EUR)
IT Help Desk
1,360
1,943
1,166
1,671
IT Technical Support*
1,493
1,663
1,275
1,445
Programmer*
1,883
2,053
1,665
1,835
Android Developer*
1,970
2,140
1,753
1,923
IT Team Leader
2,526
3,887
1,943
2,915
IT Project Manager
4,275
6,218
1,943
3,887
Finance Jobs
Prague
Brno
Role
Minimum (EUR)
Maximum (EUR)
Minimum (EUR)
Maximum (EUR)
Accountant AP/AR
1,088
1,555
972
1,477
Payroll Specialist
1,166
1,749
1,166
1,555
Financial Controller
1,360
2,915
1,166
2,332
Financial Analyst
1,166
2,254
1,166
2,332
General Ledger
1,749
2,721
1,360
2,138
Finance Manager
3,109
4,664
2,332
3,498
Director of Finance
4,664
7,773
3,109
4,664
HR Jobs
Prague
Brno
Role
Minimum (EUR)
Maximum (EUR)
Minimum (EUR)
Maximum (EUR)
HR Administration
1,166
1,943
972
1,360
Recruitment Specialist
1,360
2,138
1,166
1,943
HR Business Partner
1,749
2,915
1,555
2,526
HR Team Leader
2,138
3,498
1,749
2,721
HR Manager
3,304
5,052
2,332
4,664
Customer Service Support Jobs
Prague
Brno
Role
Minimum (EUR)
Maximum (EUR)
Minimum (EUR)
Maximum (EUR)
Customer Service Representative
1,088
1,555
972
1,555
Customer Care Team Leader
1,749
2,721
1,749
2,332
Customer Care Team Manager
2,332
4,275
3,109
4,275
Procurement & Compliance Jobs
Prague

Brno

Role

Minimum (EUR)

Minimum (EUR)

Minimum

(EUR)

Minimum 

(EUR)

Buyer

1,166

1,749

1,088

1,749

Strategic Buyer

1,749

3,498

1,360

2,332

Procurement & Compliance specialist

1,943

3,692

1,749

2,721

Team Leader P&C

2,138

3,498

2,138

3,109

Manager P&C

2,721

5,441

2,526

3,887
Marketing / Social Media / Journalism
Prague
Brno
Role
Minimum (EUR)
Maximum (EUR)
Minimum (EUR)
Maximum (EUR)
Journalist*(minimum with graduation exam)
1,204
1,271
996
1,064
*Social Media Specialist
1,259
1,413
1,084
1,238
Marketing Analyst*
1,431
1,585
1,257
1,411
Digital Marketing Specialist*
1,455
1,609
1,280
1,434
Marketing Director*
2,764
3,587
2,162
2,985
Sales
Prague
Brno
Role
Minimum (EUR)
Maximum (EUR)
Minimum (EUR)
Maximum (EUR)
Junior Sales Representative*
1,258
1,423
1,423
1,239
Senior Sales Representative*
1,650
1,815
1,467
1,631
Inbound Sales Agent
1,049
1,360
972
1,555
Outbound Sales Agent
1,244
1,555
1,166
1,555
Telesales Team Leader
1,749
2,721
1,555
2,138
Telesales Manager
2,332
4,275
2,138
3,887
Construction and Engineering
Prague
Brno
Role
Minimum (EUR)
Maximum (EUR)
Minimum (EUR)
Maximum (EUR)
Electrical Engineer*
1,665
1,793
1,533
1,661
Civil Engineer*
1,385
1,543
1,245
1,403
Structural Engineer*
1,303
1,461
1,163
1,321
Notes: Exchange rate by Czech National Bank; verified 06-08-2019. 1 EUR = CZK 25.73. The salaries in the table above are gross monthly salaries – income tax and other contributions are not deducted. Salary levels are based on data from the ABSL Report prepared by the Association of Business Service Leaders in the Czech Republic (ABSL) and Czech wage comparison engine Platy.cz.
Highest salaries in Prague and Central Bohemia, lowest in Karlovy Vary and Olomouc Regions
As we could already see in 2016, Prague is the region where the wages are the highest, followed by Central Bohemia and South Moravia (Brno).
Data by Czech Average Earnings Information System (ISPV), 2017.
The Plzeň region, which had a lower average wage in 2016 than the South Moravia, is now ranked after Prague and before the Brno region. According to Czech Statistical Office (CZSO), the lowest average wage in the country is currently in the region of Karlovy Vary, where the average salary is CZK 29,236 (EUR 1,141); CZK 13,266 (EUR 519) less than in Prague.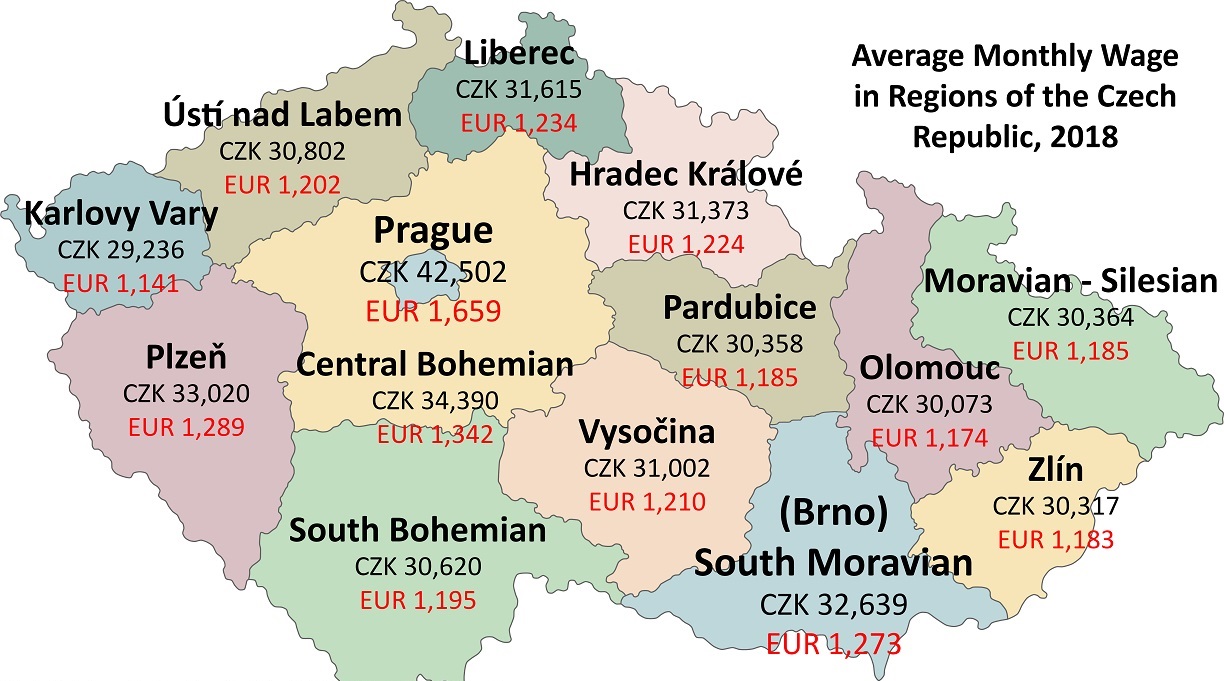 Data by Czech Average Earnings Information System (ISPV), 2019.
Gender Pay Gap in the Czech Republic
The wage difference between men and women is still high. According to the data collected by CZSO, women earn on average CZK 7,381 (EUR 287) less than their male colleagues.
A Czech man's average salary in 2019 is CZK 37,008 (EUR 1,438); a Czech woman's average salary is CZK 29,627 (EUR 1,151). The median salaries are respectively CZK 31,433 (EUR 1,222) and CZK 26,678 (EUR 1,037).
The biggest difference is in Prague: CZK 11,169 (EUR 434) between men's and women's salaries. The Karlovy Vary and Olomouc regions have the lowest wage difference, of CZK 5,300 and CZK 5,301 (EUR 206) respectively. The areas where the salaries are the lowest are also the ones where the gender wage difference is the lowest.
The tips for people who would like to find a job in Prague or Brno were prepared by the Jobspin team: a mix of interns, graduates, and university drop outs. Like what you're reading? Subscribe to monthly news highlights in the Czech job market and economy – Newsletter Sign Up. Stay tuned – more reading is coming next week.
Prepared by Zenon Moreau and Manuele Siciliano.
Previous editions of Jobspin Salary Guide:
Related video:
Career Guide: Jobs and Salaries In Prague and Brno by Sectors and Positions in 2019
Average rating:
0 reviews