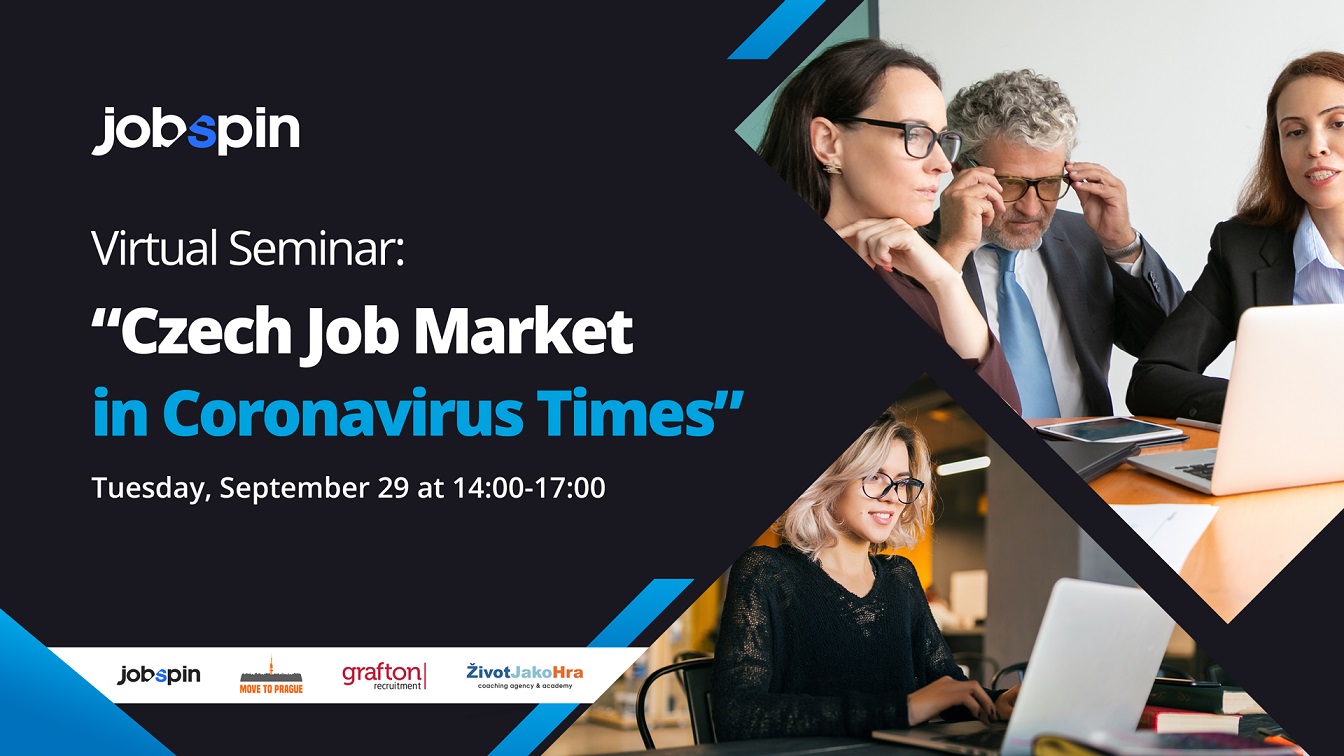 29/9 "Czech Job Market in Coronavirus Times", Virtual Seminar Program
Whether you are seeking a new job opportunity or are worried to lose your current job during the economic recession, you are probably wondering what the Czech Republic and its visa system and job market have to offer. Sign up for this free webinar and discover more with five presenting experts.
When & where:
Tuesday, September 29 at 14:00-17:00 CET, anywhere you are online – using Remo.co platform
All organizational and technical details will be shared via email with you.
Book your place now! The number of attendees at presentations is limited to 50!
There is no charge for attendance.
Registration link for attendees
Program:
Four 30-min presentations, four 15-minute Q&A sessions
During the whole event, you can virtually meet the experts and have 1-1 conversations and talks in a small groups of maximum 8 people!
Capacity: 50 attendees in presentation mode + 22 attendees in conversation mode at the same time
Presentations:
14:00-14:30
Presentation: "Coronavirus And Immigration: How To Arrange Your Visa And Relocation During The Pandemic"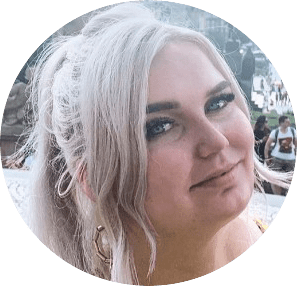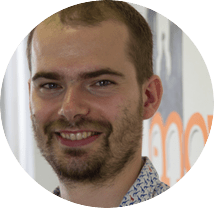 Daria Somova and Jan Kalina, Relocation Experts and Founders of Move To Prague
Move To Prague Relocation Experts
"How does the current situation affect the immigration in the Czech Republic and Europe? What are your rights if you already are in the country and want to stay further? When can you apply for the visa and actually move to the Czech Republic now? All these questions will be covered in our workshop!"
1st 15-min Q&A Session
14:30-14:45 – Move To Prague Relocation Experts respond to questions from the audience.
14:45-15:15
Presentation: "How To Write A Job-winning CV, What To Take Care About Before Online Job Interview"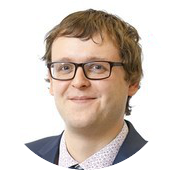 Sam Beaton, Recruitment Consultant
Grafton Recruitment
"Recruiters and hiring managers see hundreds of CVs every week – so what does it take to make a CV that really stands out? In this presentation, we will share our thoughts on how your CV can put you in the best position for a successful application, and how you can build on this during an interview. Although we will mostly be discussing business services, a lot of our tips and tricks can also be applied to academic CVs and other fields of work."
2nd 15-min Q&A Session
15:15-15:30 – Grafton recruiters respond to questions from the audience.
15:30-16:00
Presentation: "How To Stop Self-sabotaging Your Success… Not Only In Coronavirus Times."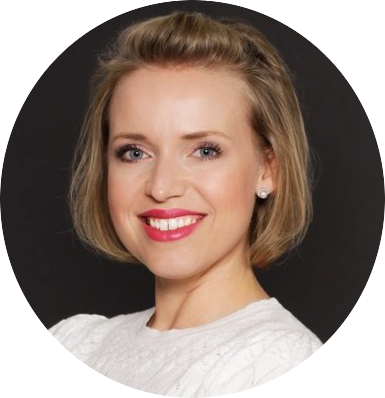 Blanka Mrázková, Professional Coach & Recruitment Leader
Život Jako Hra Coaching Agency and Academy
"Once you identify your own saboteurs, your life will never be the same again. Get new powerful tools for your personal growth and learn how to strengthen your positive intelligence."
3rd 15-min Q&A Session
16:00-16:15 – Blanka Mrázková responds to questions from the audience.
16:15-16:45
Presentation: "Czech Job Market in Coronavirus Times"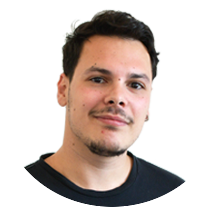 Jobspin
Antonis Dimosthenous, Sales and Marketing Manager
"My presentation will show the differences in employment trends in the Czech Republic this year compared to the previous year. In addition, we will explore how COVID-19 has been affecting the recruitment process and what professions have thrived during the crises."
16:45-17:00
4th 15-min Q&A Session
Antonis Dimosthenous responds to questions from the audience.
Book your online place at the seminar for free now
Bonus: Free CV Consulting & Coaching Personal & Professional Development Sessions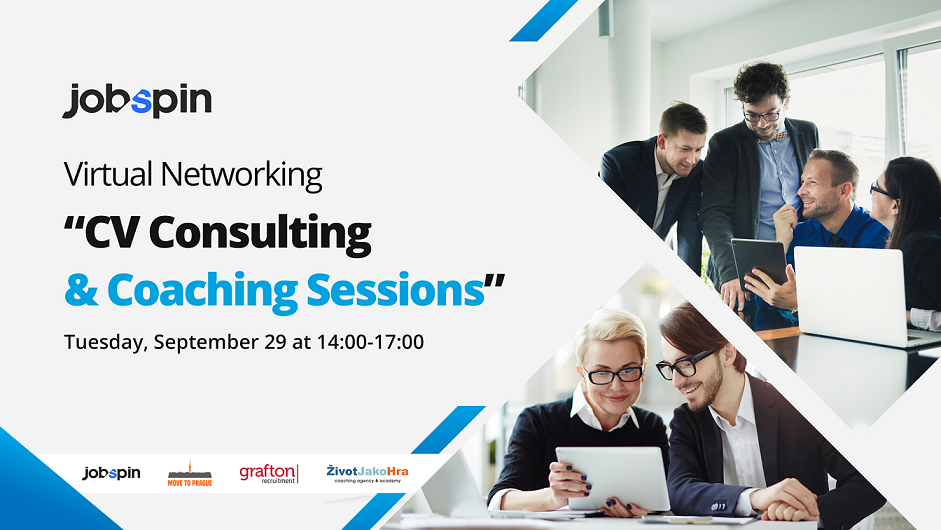 The capacity is limited to 50 attendees in presentation mode and 22 attendees in conversation mode at the same time. Conversation mode will let people join 1-1 trial coaching sessions with three coaches from Život Jako Hra Coaching Agency and Academy (14 places are available – register here) and CV consultations with professionals from Grafton Recruitment (only 8 places! The booking can be done here via this simple form.)
People who want to follow the presentations but can't secure a spot, can watch the presentations in real time via Jobspin YouTube channel.
Join 1-1 trial 20-min coaching sessions with three coaches from Život Jako Hra Coaching Agency and Academy!
Coaches: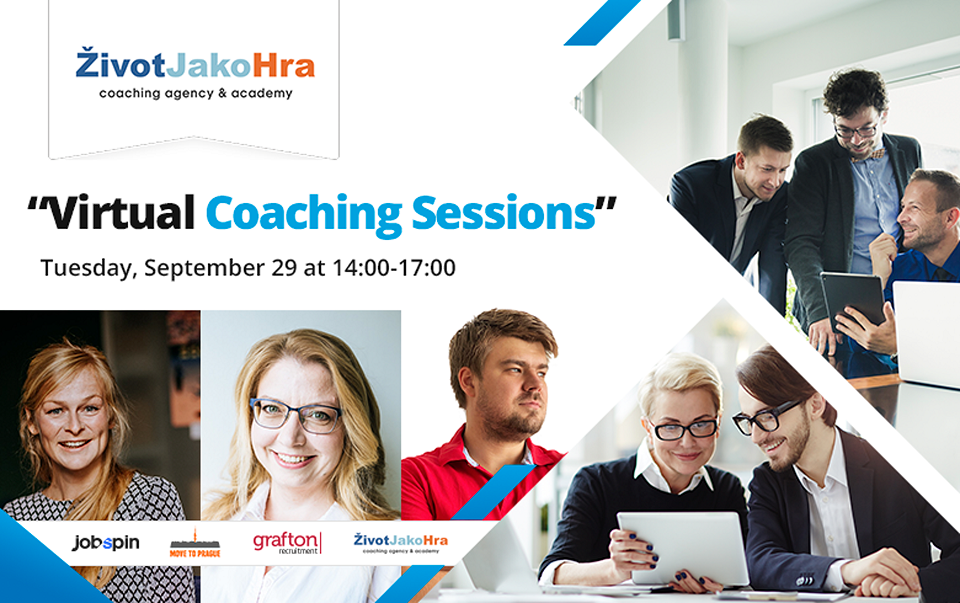 Mgr. Blanka Trávníčková
Blanka is a member of a professional team of coaches and she helps people to discover their full potential. Assisting clients to detect their strengths as well as weaknesses has a tremendous impact on their lives, development, success. She is supportive and accompanies you on your life changing path.
Kristina Škrabalová
"I'm an explorer, a freedom fighter, a word traveler and an agent provocateur. I am an ex-lawyer who wanted from life more than just sitting in the office and following instructions. I walked the path of inner freedom and personal growth in order to be able to inspire and motivate. First and foremost I´m a life coach who helps her clients to reach higher."
Šimon Müller
"I'm professional coach for 2,5 years. I have experience with international environment and I like to lift people's life up."
Register your free coaching session here.
Participating Organizations:
Move To Prague
Move To Prague Relocation Experts is your first friend when you decide to move to Prague! After being on the market for nearly a decade, we have not lost a bit of enthusiasm – we are all helping fellow expats and companies with their relocation and visa issues. 
Whether you are coming to Prague for work or freelance, alone or with your family, for a year or a lifetime – we will be your first friend in Prague to help with everything you need. We offer comprehensive and custom-made immigration, visa and real-estate solutions with a human touch for individual clients as well as companies who are hiring foreigners. Your moving story is unique, so are our services – contact us if you need assistance with your visa, residency permit, employee card, trade license, citizenship, or real-estate related issues!
Život Jako Hra Coaching Agency and Academy
If you're feeling stuck, or feel like you could be taking steps to improve yourself or your life, you might be able to benefit from professional coaching. Coaching can help you to your dream goals, and develop yourself to live your life to the fullest. Coaching agency and academy Zivot Jako Hra (Life as a game), has the largest coaching team of the Czech Republic, and takes a playful, optimistic and methodical approach to coaching. Their mission is to "help the world be full of playful people."
What does a coach do?
An experienced coach will help you find your way to your dream goals, according to Zivot Jako Hra. The point of coaching, they explain, is to help people to their success and to develop the potential of people to improve both individuals and society at large.
How?
Zivot Jako Hra has a methodical approach to help you achieve your goals. Through these methods, you learn how to work with your environment and relationships. They teach you to turn your goals into a game that will entertain you, to welcome emotions and fear in the game, using your energy in a new and useful way. Every client will have a different need or purpose, and methods will differ to cater to those needs and achieve their specific goals.
Grafton Recruitment
Grafton Recruitment is one of the largest recruitment companies in Europe. We have been providing organizations permanent and temporary jobs including outsourced recruitment solutions and FDI's projects for more than 30 years. Grafton Recruitment is a diversified staffing business that operates in nine ​countries – Czech Republic, Hungary, Poland, Slovakia, Germany, Great Britain, Lithuania, Netherlands and Romania – with more than 40 offices and employing over 500 people.  We placed in excess of 1,900 candidates in permanent jobs, supplied circa 8,000 temporary workers to clients and processed in excess of 18,000 each month last year.  We are specialists in over 30 sectors, in both private and public sector placement, providing professionals across the spectrum of business and industry. Our Brno office specialises in recruiting both Czech and international candidates to join the city's growing IT, technology and customer service industries.
Jobspin
Established in 2014 in Brno, Jobspin International s.r.o. has built its brand as a job board for expats in the Czech Republic. Jobspin provides job advertising to companies seeking new employees with exceptional language skills in Prague and Brno.
In 2016, Jobspin launched a series of Jobspin Multilingual Job Fairs in Prague and Brno where candidates and recruiters meet and establish professional and personal connections. Jobspin occasionally organizes business seminars for employers and workshops for expats in Prague about relocation to the Czech Republic.
The event is supported by Brno Daily and ESN MUNI Brno.