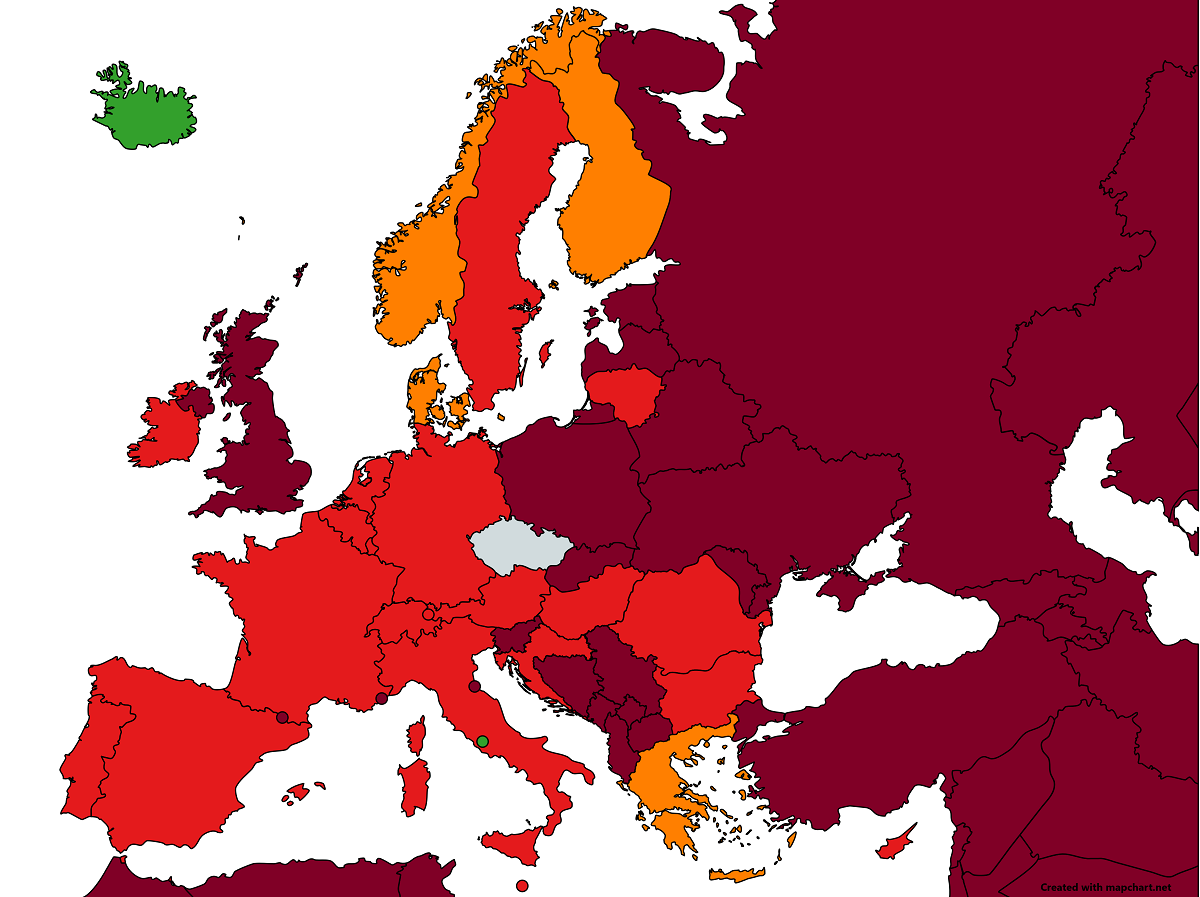 Country-Specific Rules For Travelling to the Czech Republic During COVID-19
Travellers who plan to enter the Czech Republic are obliged to meet certain conditions depending on their country of origin and the rules which correspond to the level of risk from that country. The travel map is regularly updated as the coronavirus situation develops. More information and recent updates can be found via this link. Photo Credit: Mzcr.cz.
Written by Kim Bingel, edited for Jobspin.
Czech Rep., Mar 3 (JS) – The travel map is updated on a weekly basis by the Ministry of Health according to data from the European Center for Disease Prevention and Control (ECDC). Countries can be classified as green, orange, red, dark red or black depending on their level of risk.
People travelling from orange, red and dark red categories are required to wear a disposable medical mask or respirator (at least FFP2, KN95, N95, P2 or DS) for 10 days after arrival when outside of the home. Students and employees are obligated to submit the test result to their school or employer before entering the premises.
Green
Low-risk countries currently include Australia, South Korea, New Zealand, Singapore, Thailand, Vatican City and Iceland. Travellers can enter the Czech Republic without any restrictions.
Orange
Medium risk countries include Finland, Greece, Norway, Denmark; Azores (Portugal). Both foreign and Czech travellers must complete an arrival form and present written confirmation of a negative result from an antigen test taken within 24 hours or a PCR test taken no more than 72 hours before they enter the Czech Republic.
Red
Countries classified as high risk include Belgium, Bulgaria, France, Croatia, Ireland, Italy, Cyprus, Liechtenstein, Lithuania, Luxembourg, Hungary, Malta, the Netherlands, Poland, Austria, Romania, Germany, Sweden, Switzerland, Portugal and Spain. Travellers from red countries are subject to the same obligations as orange countries, but in addition, they must submit a second PCR test taken in the Czech Republic within five days of entry. They are required to self-isolate until a second negative test is submitted.
Dark Red
All other EU member states and non-EU countries not mentioned above are considered 'very high risk' for the transmission of coronavirus. Travellers from dark red countries must complete an arrival form and present a negative PCR test taken within 72 hours prior to entry to the Czech Republic – an antigen test will not be accepted in this case. A second PCR test is required, no sooner than the fifth day after arrival. Self-isolation is required until a negative test is submitted.
Considering the development of new coronavirus mutations and the spread across Europe, the ECDC recommends people to postpone their travel plans unless they are absolutely necessary. Regardless of their country of origin, foreigners are prohibited from entering the Czech Republic for non-essential travel purposes.
Black
Extreme risk countries include Botswana, Brazil, Eswatini (Swaziland), South Africa, Kenya, Lesotho, Malawi, Mozambique, Tanzania (including Zanzibar and Pemba), Zambia and Zimbabwe. From February 26th until April 11th, Czech citizens and residents are prohibited from travelling to these countries unless for urgent reasons. This does not apply to citizens of those countries and journeys which cannot be postponed, or that have been cleared with the Czech Ministry of Foreign Affairs in advance.