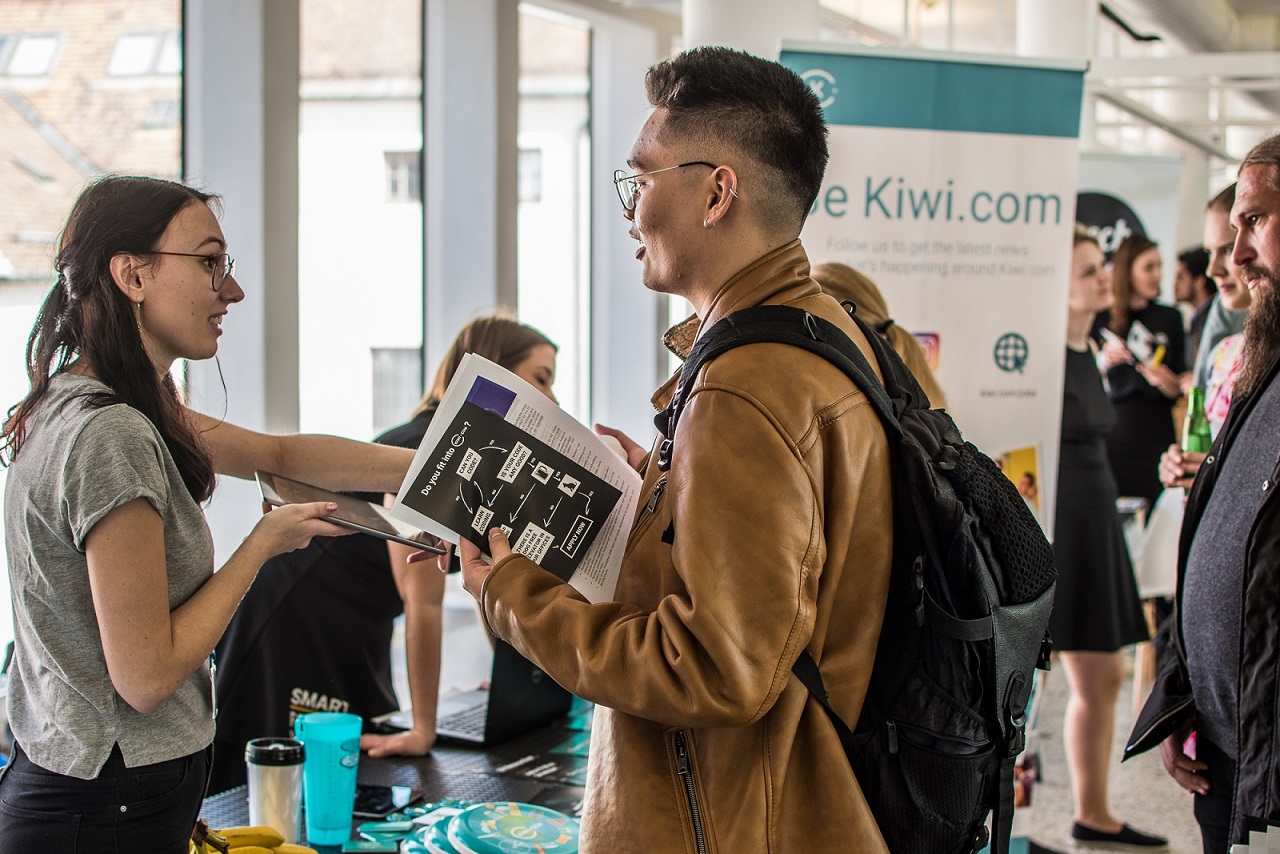 Jobspin Job Fair Continues to Connect Expat Job Seekers with Employers in Brno and Prague
Over 500 foreign job-seekers attended the job fair on Saturday, March 23, to see what Brno-based international companies have to offer. The exhibitors were more than glad to meet with expats and receive CVs of prospective employees. Jobspin Multilingual Job Fair will now be coming to Prague, where it will open its gates on Saturday, May 4.
Brno, Apr 2 (JS) – "We wanted to be present in today's job fair, because we focus on the expat community. We're glad that we got lots of interesting candidates, from many different countries and having many different skills," said Aleš Pacner, a talent acquisition partner from RWS Moravia, main partner of Jobspin Job Fair in Brno.

The very fact that it was a multilingual job fair, attracted many expats and foreign job applicants. With RWS Moravia being a foreigner-oriented company, Jobspin's Multilingual Job Fair was perfect for them to seek internationally-minded candidates. "The atmosphere of the job fair was really beautiful and lively; we experienced a melting pot in Brno!" exclaimed Anna Rejdová, who is also a talent acquisition partner at RWS Moravia.

The Jobspin Multilingual Job Fair had over 500 job-seeking visitors – a record for the fair in Brno – who had the chance to interact with hiring companies in Brno. The companies themselves saw it as a big chance to meet with many candidates, and explain what their companies have to offer.

"We got to connect with many different people from all over the world. We received more than a hundred CVs, and the positive vibe of the job fair made a huge difference," said Andrej, a recruiter from Infosys.

With the need of multiple languages increasing in terms of importance, the job fair was very important for recruitment in the international companies. The exhibiting companies who are seeking multilingual foreigners were able to easily interact with prospective employees.

"Many people were searching for full-time jobs, and we were more than happy to give them options in our company. We are truly searching for foreigners who know different languages. Because this fair was focused on expats, this was perfect for us" said Andrea Blažková, the recruitment team leader at Lufthansa InTouch.

From the perspective of the attendees of the event, everyone had a chance to interact, face-to-face, with representatives from companies that they were most interested in.

"I don't regret coming here at all – this is way better than scrolling through advertisements on the internet," exclaimed Itai Rosenfeld Cohen, an expat from Israel.

"The catalogue given by Jobspin was extremely helpful, as it gave a lot of information on the companies in the fair," he added.

Kenneth Ngubeni, from South Africa, said "I wanted to experience Brno's opportunities better, so I came to Jobspin's job fair. Websites for jobs can get tedious, and I liked talking face-to-face with the employers."

The Jobspin Multilingual Job Fair happens every six months – but not only in Brno! On May 4, the job fair is coming to Prague's city center for its 6th edition, to continue connecting international companies and multilingual job seekers. For more information on the Jobspin Multilingual Job Fair in Prague, visit the official website.
Next time in Brno: October 19! Register your FREE ticket now. Contact for exhibitors: team at jobspin.cz