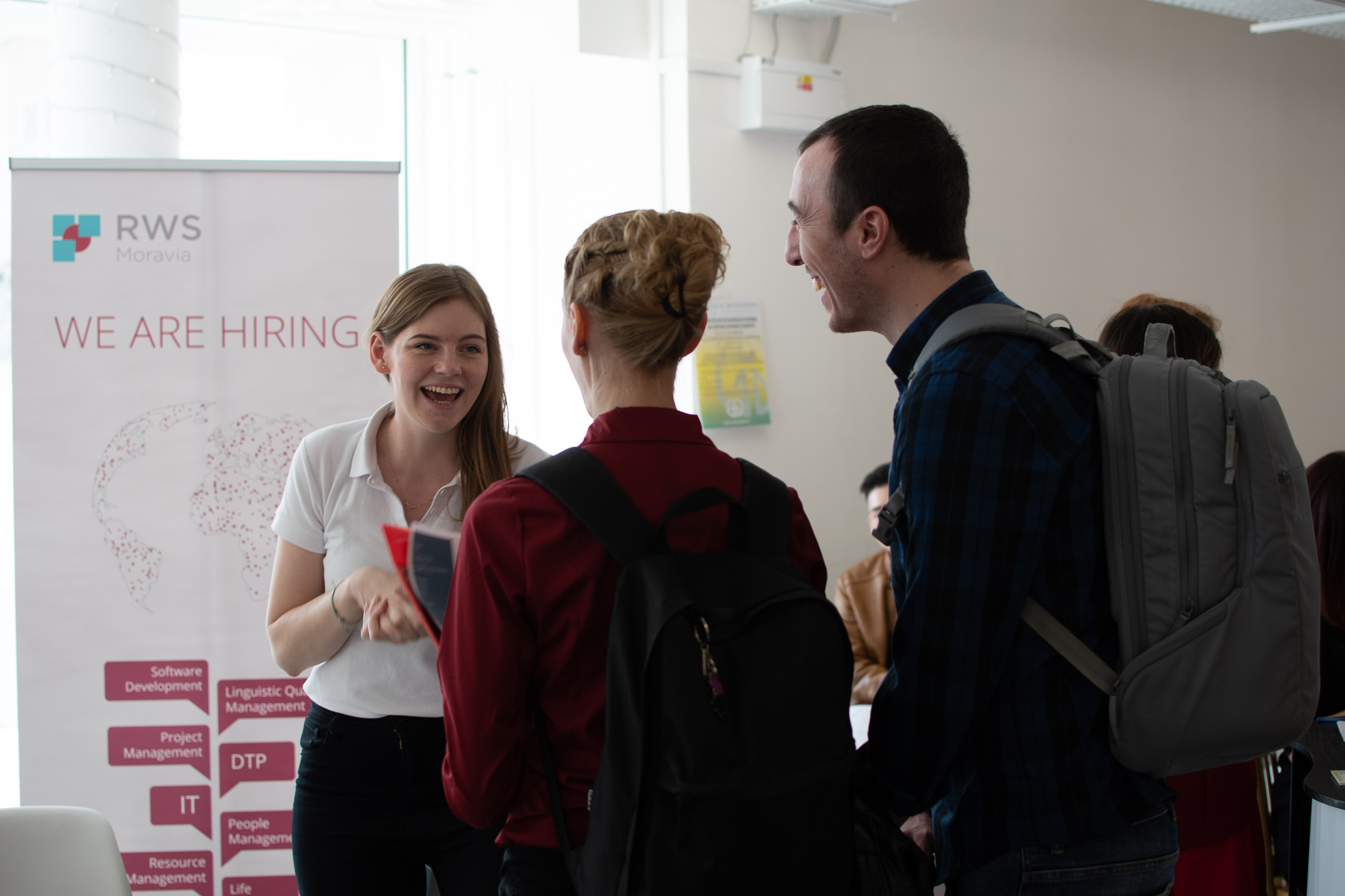 Program of the 6th Jobspin Multilingual Job Fair in Brno
In photo: RWS Moravia at Jobspin Multilingual Job Fair, March 2019.
Jobspin Multilingual Job Fair in Brno – October 19, Tržnice Brno, Zelný trh
Expect presentations for job-seekers, assistance for foreigners from expat centers, and professional consultations regarding CV writing and interview preparation.
And, as we always do, the job fair is FREE to attend for all expatriate job seekers!
Presentations and Public Debate – 4th floor
10:15-11:00 – "Notino's Unique Approach To Modern Customer Experience"
Vanja Stojković – Senior Operations Manager at Notino
Description: "Last Year 75% Of Companies Said Top Objective Was To Improve Customer Experience. Being one of them, you will have an opportunity to see how Notino's Customer Care changes with customers and at the same time, get an insight of our operations and how we manage our department that takes care of customers across 23 countries."
11:10-11:55 – "Swiss Re – We Are Smarter Together"
Zuzana Janostiakova and Eva Midriakova – Recruiter Advisors (HR Department); Lukas Satka – IT Business Analyst (Finance IT); Dominika Kozuchova – Business Coordinator (Business Services); and Paulina Maslakova – Team Leader (Finance Department) at Swiss Re
Description: "At Swiss Re we combine experience with expertise and innovative thinking to create new business opportunities and solutions. Together with clients and partners, we have helped people all over the world turn pioneering ideas into reality or to get back on track when things go wrong. Are you interested in joining us? Discover more about us during our presentation."
12:05-12:50 – "Immigration Support For Expats"
Oldřich Lang – Expat & Immigration Consultant at Foreigners
Description: "The presentation will be about useful services for expats and what to remember when relocating from abroad."
13:00-13:45 – "Localize Yourself"
Ales Pacner, RWS Moravia
Description: "What is localization? It's actually about languages and not GPS – come to find out what is work at RWS Moravia about."
13:55-14:40 – "Shared Services Are ABSOLUTELY NOT Call Centres – Opportunity Awaits"
Mark Harrison – Founder of Association of Credit for Central and Eastern Europe
Description: "More than 1500 global corporates in the CEE region operate the SSC business model as a key part of business operations. Brno has around 50 centres employing more than 10,000 people, including many expats. The majority of SSC's are responsible for finance and very often HR,Customer Service and IT and other functions. The very nature of SSC's means you are surrounded by BIG DATA and exciting IT projects offering opportunity to travel,use language skills and develop yourself in to a Subject Matter Expert making a major contribution to business effectiveness and profitability. In this session Mark will share more than 15 years experience as a senior operational manager and entrepreneur specializing in this field."
14:50-15:35 – "Go Big With Big Blue"
Several managers from IBM Customer Service Unit – Miroslav Jindra, Théophile Walger and others
Description: "It will be an overall introduction of IBM Brno Center, presentation of our various positions within Customer Service Unit and demonstration of a career path whit you can make with us!"
EXTRA: 16:30-17:30 – PUBLIC DEBATE – "Expats In Brno – The Current And Future Situation"
Open Debate for Expats And Stakeholders
Panel (first confirmed speakers):
Lucia Konopkova – Senior Consultant at Brno Expat Centre – short presentation of statistics from the recent survey of the Brno expat community
Jan Kalina – Relocation Expert from Move to Prague
Marek Fiser – Brno City Council Member for Culture
Mark Harrison – Founder of Association of Credit for Central and Eastern Europe and Brno expat
You!
Host: Carlos Moreno
Description: "Open debate for expats and stakeholders which everybody can join! We will track and discuss the current situation of expats in Brno and the entire Czech Republic. Culture shock, advantages of living here, daily issues, serious and funny moments of expat life in the Czech Republic – and, most importantly, what can be improved. We have invited important stakeholders representing the expat community and experts. Your voice will be heard."
 FREE CV AND RELOCATION CONSULTING – 3rd Floor
SPECIAL TIP: Consult your CV with professionals! Recruiting experts at Grafton Recruitment will help you to perfect your CV. They will provide free consultations at a special Grafton Recruitment CV Consulting Panel the whole day.
Need relocation help and advice? Stop by at the stand of Move to Prague (soon "Move to Brno") and Foreigners!
NEW: WORKSHOPS at the Stands of Move To Prague and Czech Courses – 3rd Floor
1) 14:30-14:50 – WORKSHOP FOR COMPANIES AND HR
20-Minute Workshop "The Most Important Changes in the Act on Residence of Foreign Nationals in the Czech Republic"
By Move To Prague (soon Move to Brno) Relocation Experts.
This workshop is for employers and HR professionals. Please find more information and sign up in advance here. We will share the time and place with you via email after the registration. The workshop is free of charge.
2) 14:00-14:30 – WORKSHOP FOR THE CZECH LEARNERS
30-Minute Workshop "How to Learn Czech Effectively?"
By Czech Courses Brno.
Would you like to learn Czech, but don't know how to start? Are you already learning, but feel that you are not making a progress? Teachers from Czech courses Brno language school will give you useful tips on how to study Czech more effectively
Exhibiting Employers – 3rd Floor
Gardner Denver Brno, Grafton Recruitment, Honeywell, IBM Global Services Delivery Center Czech Republic, s.r.o., Infosys, Lufthansa InTouch Brno, Notino, Oracle NetSuite, RWS Moravia, Swiss Re Group, and Zebra Technologies CZ.
Exhibiting partners – 3rd Floor
Centre for Foreigners JMK, Czech Courses Brno, Foreigners and Move to Prague (soon Move to Brno).
Follow the official website for regular updates.