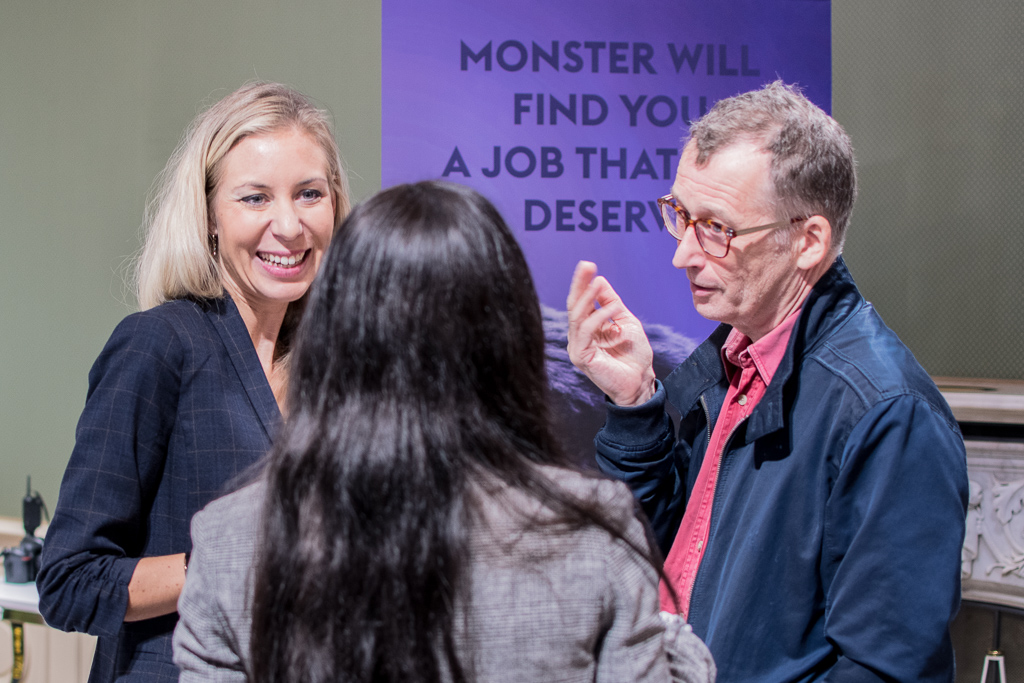 Jobspin Job Fair: What to Expect, What to Do Before Coming
Last year, over 450 job-seekers attended the Jobspin Multilingual Job Fair. Are you ready for the upcoming fifth edition on Saturday? Read more about what you can do in preparation, and what you can expect in this spring's job fair. Photo: Jobspin Job Fair, 2018.
Brno, Mar 20 (JS) – If you aren't sure what to do in preparation for attending the job fair, don't worry about it!

"Their CV is the only thing the visitors really need to bring. A good idea would be to have more copies with their contact details included, so that they can leave them with the recruiters," says Eduard Soukup from Grafton Recruitment.

"Besides that, job fair attendees can take a look on the list of exhibitors and get a bit more familiar with the ones that interest them the most," adds Soukup.

Not sure how you can improve your CV? In this job fair, your CV can also be reviewed by recruiting experts! An all-day CV consultation panel by Grafton Recruitment will help you in perfecting your CV.

"Employers and recruiters look mostly for coherent, simple structured and organized CVs. Insert only relevant job experiences – there is no need to insert temporary jobs or internships, unless it's relevant for the position they are interested in. I'd recommend to have also their photo in the CV," Soukup explained.

The Jobspin Multilingual Job Fair is back in Brno for its 5th edition – last year, over 450 visitors attended, with many recruiters and representatives from large international companies! With the job fair's main partner being RWS Moravia, and Brno Daily as the media partner, the fair will be hosting plenty of exhibiting employers from big international companies.

"The Jobspin Job Fair is open and free for everyone to attend – we welcome students, graduates, and professionals – everybody who can and want to use their best skills at work, without necessarily knowing Czech," said Kateřina Kukrechtová of Jobspin job board, the organiser of the job fair.

Kukrechtová added, "Last year, we estimated over 450 visitors. We hope to cross 500 visitors this spring."

Coming to the job fair with your CV, you can give it to different companies with vacancies in different fields – from customer support and accounting, IT, management… The list is endless.

Meet with recruiters and representatives from prominent companies such as Amazon, AT&T Global Network Services, Blackboard, Grafton Recruitment, Infosys, Kiwi.com, Lufthansa InTouch, Monster, Oracle NetSuite, Reed Personnel Services, RWS Moravia, and more.

There will also be an all-day program of expert presentations on relocation, immigration to the Czech Republic, practical information on healthcare, and a Czech language course, as well as advice on how to choose the right company to work with. Read more about the program below, or visit the official website of Jobspin Job Fair where you can also register for your free ticket.
Program, Jobspin Job Fair Brno 2019
10:15-11:00: Dealing With Immigration & Relocation Matters In The Czech Republic. Martin Chudoba, Relocation Consultant, Foreigners Brno

11:10-11:55: Localize Yourself. Ales Pacner, RWS Moravia
12:05-12:50: Employment Of Foreigners: Legal-visa Workshop For Expats And Companies. Jan Kalina And Daria Somova, Owners of Move To Prague, Relocation Experts
13:00-13:45: Czech Language Business Communication. Karolína Zlámalová, Czech Courses Brno Head Tutor
13:55-14:40: Choosing The Right Company. Veronika Bleson, Recruitment Quality Specialist, Kiwi.com
14:50-15:35: What You Should Know About Your Health Insurance (But You Probably Don't).Lucia Konôpková Client Services Manager, Brno Expat Centre
Job Interview Workshop
Job interview – a difficult moment for many. Attend a workshop with career experts directly at the stand of Centre for Foreigners JMK at 11:00 and 13:00. Practical tips, advice, and rules of the job interview in Czech and international companies. Language of the workshop: English.
More info: the official website of Jobspin Job Fair
Written by Anjanette Jianna Umali