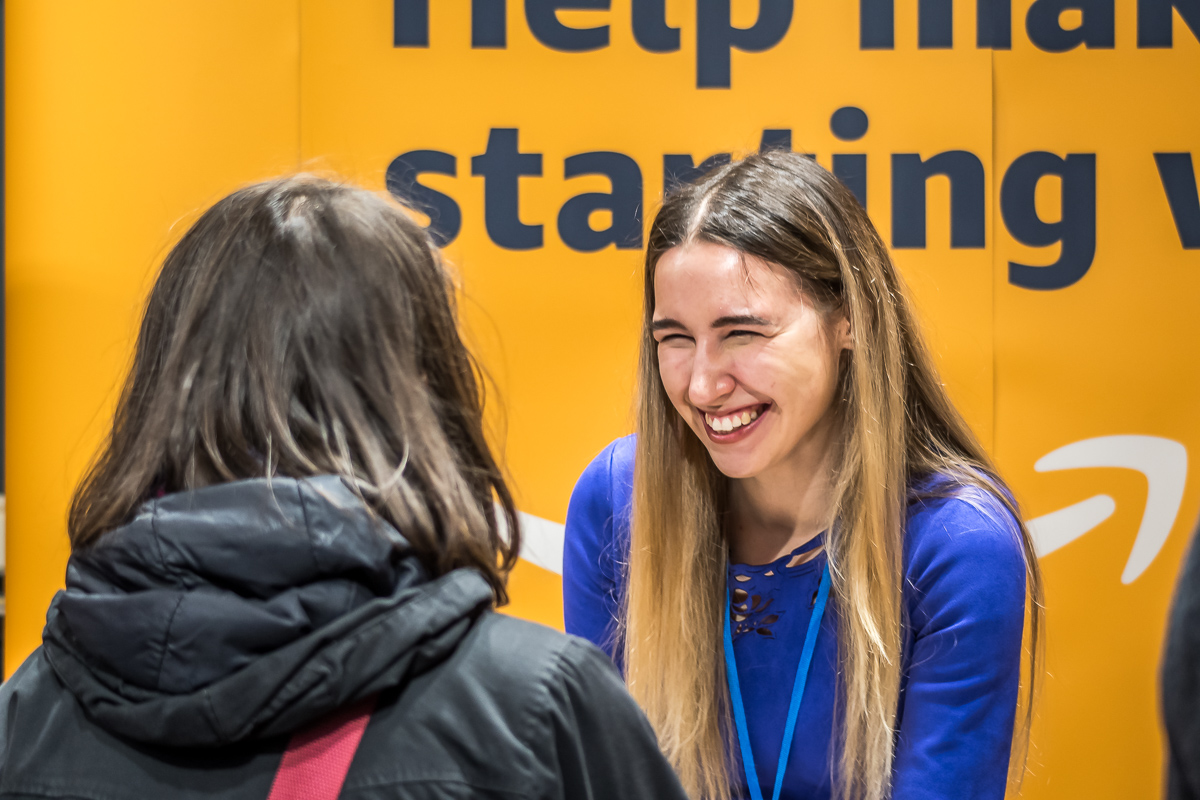 International Networking & New Starts: the 6th Jobspin Multilingual Job Fair Connected Prague Expats with Employers
On Saturday, May 4, Jobspin Job Fair attracted important international employers who took the opportunity to meet with expats seeking jobs in Prague. Jobspin Job Fair in Prague will return later this year, on November 23.
Prague, May 27 (JS) – "I made lots of contacts with great companies, and I also got a job proposal!" says one of the visitors. Over 500 people showed up for Jobspin Multilingual Job Fair at Anglo-American University, in the center of Prague. People traveled from the whole world – India, Italy, UK, France, America, or Japan – to start their live and career in Prague. Among the invited employers were world-known companies that were hiring for their Prague-based branches: Amazon, Accenture, Expedia, SIRVA, and SAP were part of Jobspin Job Fair.
"I am happy that EXPATLEGAL and Move To Prague said 'yes' to the presentations – I think the presentations covering legal aspects of employment and relocation issues were very useful for the expats," says Kateřina Kukrechtová, the organizer of Jobspin Job Fair.
Workshops and presentations were organized for the entire day, offering the possibility to learn about working in the Czech Republic. A special "CV Consulting" panel opened by Indago Recruitment was one of the busiest spots in the entire event. "I think every second person started their day at the job fair at the CV Consulting Panel. It's logical – first you have your CV checked by a recruiting professional, and then you go and present it to the companies," Kukrechtová adds.
Jobspin Job Fair is based on a concept of a specific, niche group. "We target our marketing mainly on expats living outside of the Czech Republic and in Prague. With current unemployment, we are trying to attract new talents from abroad, but we are not forgetting 'our expats'. People now have jobs – but they are always curious to see what's new or better out in the job market," explains Kukrechtová.
Kukrechtová sums up the 11th edition of Jobspin Job Fairs in Prague and Brno: "There was a very good atmosphere, it was great to see so many young talented professionals attending the fair this spring."
The Jobspin Multilingual Job Fair happens every six months. On October 19, the job fair is coming to Brno, and on November 23 to Prague – to continue its mission of connecting international companies and multilingual job seekers.