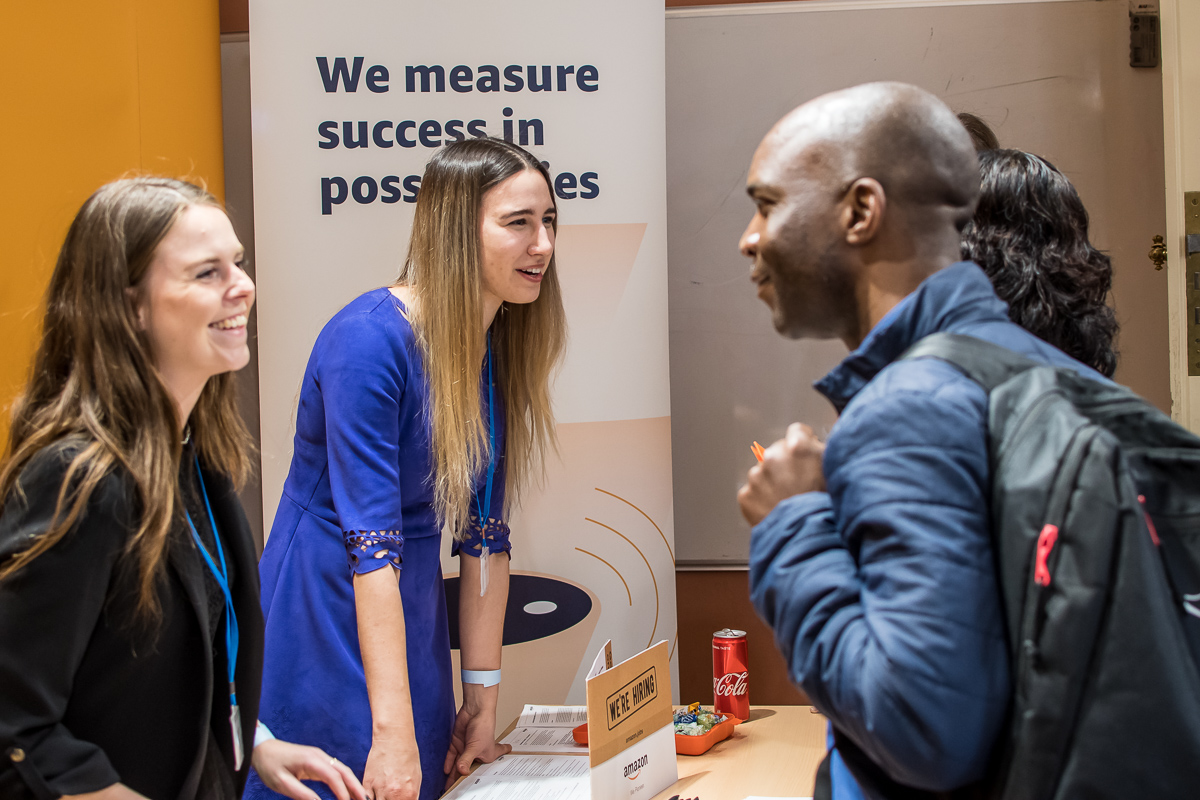 Program of the 7th Jobspin Multilingual Job Fair in Prague
Expect presentations for job-seekers, assistance for foreigners from expat centers, and professional consultations regarding CV writing and interview preparation.
The 7th Jobspin Multilingual Job Fair in Prague features:
7 Expert & employer presentations
2 Relocation agencies assisting expats with visa / employee cards and relocation issues
1 CV consulting panel
4 Professional interactive workshops
1 Czech language school
And, as we always do, the job fair is FREE to attend for all expatriate job seekers! Register here.
Date and time: November 23rd from 10 AM – 4:30 PM at Anglo-American University at Letenska 5 (map).
Exhibitors
Exhibiting Employers: Accenture, Amazon, D-ploy, Expedia (registration changed to 2020, update: 11/7/2019), GEP Worldwide, Hertz Autovermietung GmbH, ICON Communication Centres, Johnson & Johnson, Manpower Group s.r.o., Novartis, SAP Services s.r.o., Sirva, Swiss Re Group, UNICEF Global Shared Services Centre – Budapest and Vodafone.

Exhibiting Partners: Czech Courses, Foreigners Prague, Move To Prague
Place: 1st floor
Video: Check how the Jobspin Job Fairs look like! 

Presentations
Place: 1st floor, room in front of the main staircase, entry free of charge.
10:15 – 11:00 "SHARED SERVICES ARE ABSOLUTELY NOT CALL CENTRES – OPPORTUNITY AWAITS"
Mark Harrison – Founder of ACCEE
Association of Credit for Central and Eastern Europe
More than 1500 global corporates in the CEE region operate the SSC business model as a key part of business operations. The majority of SSC's are responsible for finance and very often HR,Customer Service and IT and other functions. The very nature of SSC's means you are surrounded by BIG DATA and exciting IT projects offering opportunity to travel, use language skills and develop yourself in to a Subject Matter Expert making a major contribution to business effectiveness and profitability. 
In this session Mark will share more than 15 years experience as a senior operational manager and entrepreneur specializing in this field.
11:10 – 11:55 "LOOKING FOR TALENTS WITH CURIOUS MINDSET FOR NOVARTIS GLOBAL SERVICE CENTER PRAGUE"
František Havel – NBS GSC Operations Manager CZ
Novartis Business Services s.r.o. 
Imagine what you could do at Novartis. No matter where you work, you could contribute to solving some of the toughest healthcare challenges and have an extraordinary impact on people's lives. 750 million lives touched by our products. Join us!
12:05 – 12:50 "HOW TO BE EMPLOYED IN THE CZECH REPUBLIC AS A FOREIGNER?"
Jan Kalina
Move To Prague – Relocation Experts
Jan and his colleagues of Move To Prague – Relocation experts will answer all your questions: how to be employed in the Czech company as a foreigner, whether to work under the employee card or a trade license, what your rights are and how you can benefit from the labour market in the Czech Republic.
We will also cover some of the unique situations, such as working as student, opening a trade licence while having a different residence permit, and switching from one purpose of stay to another, including the recent changes in the Immigration Law from July that will have an impact on almost every foreigner living in the Czech Republic!
After the short workshop, we will have open time for your questions on these or other matters!
13:00 – 13:45 "D-PLOY & ITS STORY"
Paige Ann Reierson – Junior Recruitment Consultant
Daniela Bach Rizzatti – Recruiting and Resource Manager
Peter Vlčko – Recruitment & Resource Manager
D-ploy
The brief story of D-ploy & its current strategy with business vision.
We cooperate with interesting customers; from major global regulated industries to local mid-sized growing businesses mostly in pharmaceutical, chemical, IT & healthcare environment.
We created a highly flexible working environment to support our employee's development
D-ploy is an ideal place for professionals looking for new experiences, challenging assignments and development!
13:55 – 14:40 "SWISS RE – WE ARE SMARTER TOGETHER"
Thomas Antonin Lamy and Phillip Stubna – Recruiter Advisory
Amanda Lively – Team Leader of Technical Accounting
Christoph Isenschmid – Location Developer Manager, IT Department
Matej Kubrizsky – Operational Leader, L&H na oddelení Business Services
Swiss Re
At Swiss Re we combine experience with expertise and innovative thinking to create new business opportunities and solutions. Together with clients and partners, we have helped people all over the world turn pioneering ideas into reality or to get back on track when things go wrong. 
Are you interested in joining us? Discover more about us during our presentation.
14:50 – 15:35 "SOURCE-TO-PAY THE ACCENTURE WAY"
Anastasija Siljanoska – Senior Recruiter
Alberto Amodio – Sourcing Execution Team Lead
Carlo de Leeuw – Procurement Operations Team Lead
Accenture
Accenture Operations combines technology that digitizes and automates business processes and delivers everything-as-a-service with our team's deep industry, functional and technical expertise. 
We'd like to show you how we achieve this in our Procurement division – two of our experts will share with you what Source-to-Pay is and how you can develop and grow in their teams, while bringing added value to our clients at the same time.
15:35 – 16:20 "HOW TO: SUCCESSFUL CV AND LINKEDIN PROFILE"
Kristína Žitňanová – Recruiter
Lucie Kulíšková
Vodafone
Do you want to know the secrets of successful CV and LinkedIn profile? Do you wonder how recruiters evaluate your profile? Come to listen, learn and discuss with Vodafone recruiters!
Program:
Presentation (Kristína Žitňanová)
Discussion
Personal consultation of your CV or LI profile
INTERACTIVE WORKSHOPS
Please note that due to capacity reasons WORKSHOPS REQUIRE SPECIAL REGISTRATION.
Place: room in the courtyard. Entry is free of charge.
1) 10:00- 10:45 "WHAT TO TRIPLE-CHECK BEFORE SIGNING A WORK CONTRACT"
Workshop by Attorney at Law Barbora Karetova of EXPATLEGAL
Regardless of your employment status, if you're working, you should have an employment contract. We will discuss the key elements that should appear in your employment contract and what to triple-check before signing it.
Capacity: Max. 18 people
Registration required, CLICK HERE to register.
Place: Room with the large glass door in the courtyard of the university (ask at the registration desk, if you have doubts)
2) 11:00-12:30 "THE REALITY OF OUTSOURCING POSITIONS IN ACCENTURE OPERATIONS"
By Accenture professionals – Anna Jakoubková, Simona Timis, Alexandra Gorokhova, and others
Are you an expat searching for a qualified job in finance, accounting, HR, procurement, customer services, pharmacovigilance, law and many others? Or are you one of those who speak many languages and want to apply them on daily basis at work? Come to our workshop and we will show you in an interactive way what it means to work in an outsourcing company. This workshop will introduce you HR and Procurement division and explain you in funny way what we do in Accenture Operations.
Capacity: Max. 25 people
Registration required, CLICK HERE to register.
Place: Room with the large glass door in the courtyard of the university
3) 12:30-13:00 "LEGAL RESPONSIBILITIES FOR EXPATS WORKING IN THE CZECH REPUBLIC"
A 30-minute Workshop Followed by a Q&A Session for All Expat Job-Seekers and Employees
By Foreigners Prague experts
Professional advice on what legal documents you must have when you want to work or study in the Czech Republic or when you are already here all set but you would like to bring someone from your family to live with you. What's the procedure? How long does it take until you get your visa approved? Get the answers to all your questions to feel much more relaxed during your stay in the country!
Capacity: Max. 18 people
Registration required, CLICK HERE to register.
Place: Room with the large glass door in the courtyard of the university (ask at the registration desk, if you have doubts)
Speakers: Dana Blichová, Expat & Immigration Consultant, Foreigners Prague Zuzana Ledbová, Expat & Immigration Consultant, Foreigners Prague
4) 14:30-14:50 "THE MOST IMPORTANT CHANGES IN THE ACT ON RESIDENCE OF FOREIGN NATIONALS IN THE CZECH REPUBLIC" 
A 20-Minute Workshop Followed by a Q&A Session for Employers and HR Professionals
By Move To Prague Relocation Experts
This workshop is for employers and HR professionals. Please find more information and sign up in advance here. We will share the time and place with you via email after the registration. The workshop is free of charge.
Capacity: Max. 18 people
Previous registration welcome, CLICK HERE to register.
Place: Room with the large glass door in the courtyard of the university (ask at the registration desk, if you have doubts)
Speaker: Jan Kalina, Owner and Co-founder of Move To Prague
Please note that by entering this event, you give a consent to be photographed. All such photos shall be sole property of the event organizers.