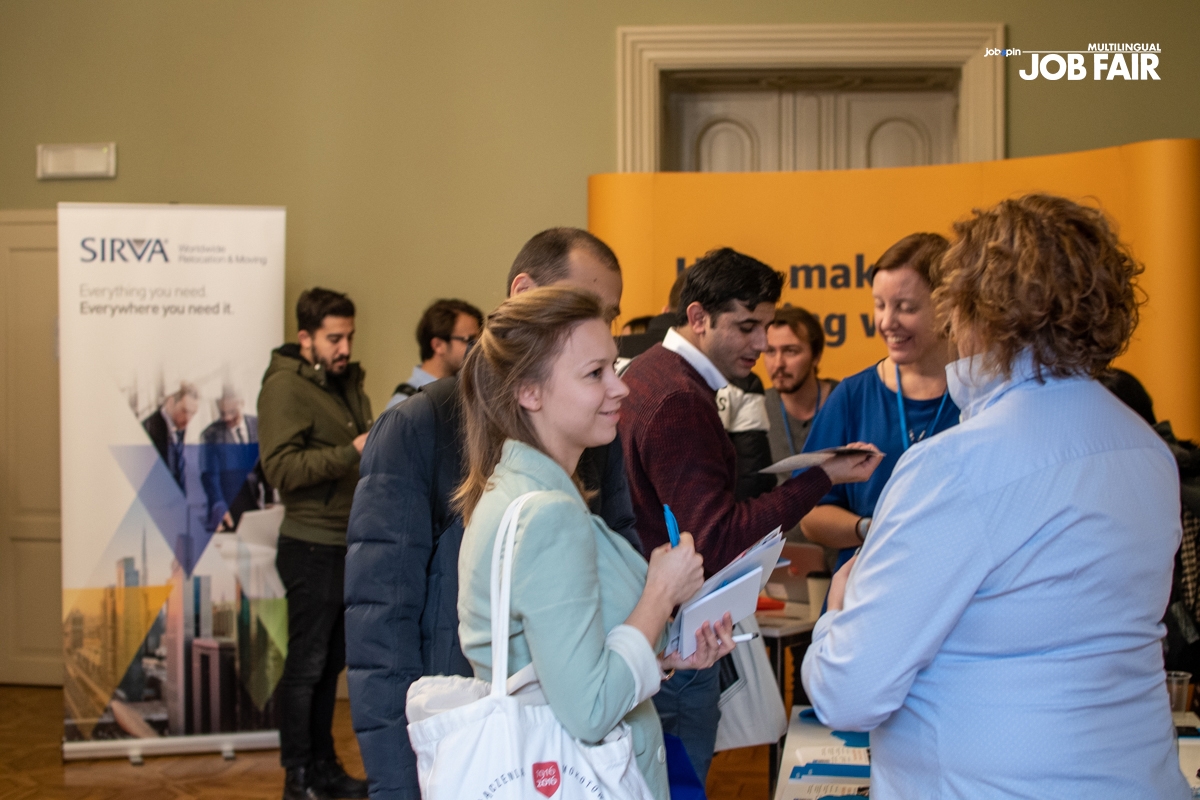 Nothing Beats a Face-to-face Meeting. More than 700 International Job-seekers and Employers Meet at the Jobspin Job Fair in Prague
There was another large international turnout at this autumn's Jobspin Multilingual Job Fair in Prague. Browse the official photo gallery at the end of this article.
Over 700 international professionals, graduates and exhibiting employers came to the November Jobspin Job Fair, making it one of the most successful events of its kind so far. Photo credit: Jobspin.
Brno, Czech Rep., Dec 4 (JS) – A large number of expat job-seekers filled the halls of the Anglo-American University on Saturday, November 23rd to meet and talk with HR professionals and managers from 20 exhibiting employers, including some of the world's largest companies.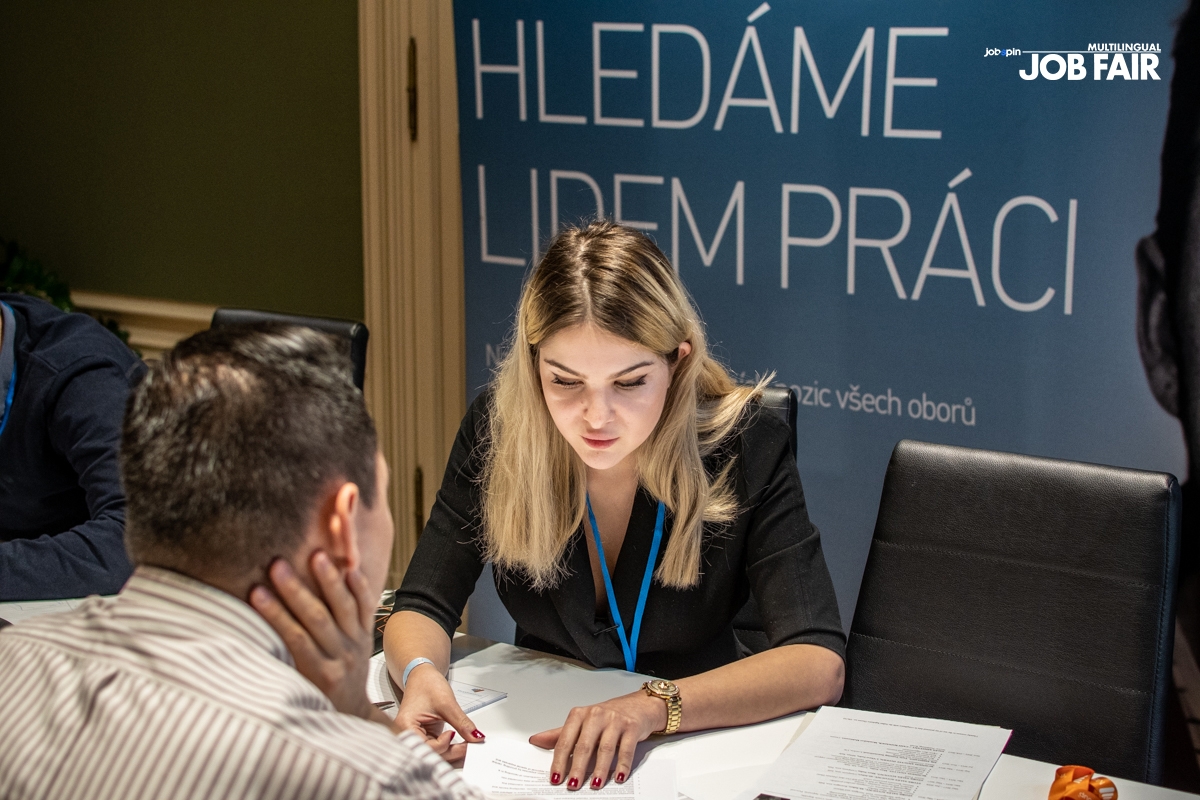 CV Consultation Panel by Manpower Group at Jobspin Multilingual Job Fair in Prague, November 23, 2019. Credit: CG / Jobspin.
The doors of the University opened at 10am. The first set of people interested in this "temporary hub for employers" made their way to the exhibition halls. More job-seekers came in around noon to attend professional workshops and expert presentations and visit the CV consultation panel. "The program gives visitors a chance to network with companies in a more personal atmosphere, get to know each other, and most importantly, to get a better understanding of topics that are relevant and interesting to the expat community and job-seekers in general. So, that's why I think people actually really like going to the workshops, and there was a tremendous interest in the CV consulting service, which we also provide for free at each event," said Katerina Kukrechtova, a member of the organising team.
Jan Kalina, co-owner of Move to Prague Relocation Services, who was one of the presenters, discussing "How To Be Employed In The Czech Republic As A Foreigner", was satisfied with the turnout at his presentation: "The presentation was perfect. The presentation room was full, some people did not even have a place to sit. The crowd was asking questions and debating with us, which shows me that the topic was well chosen and that the group was perfectly targeted."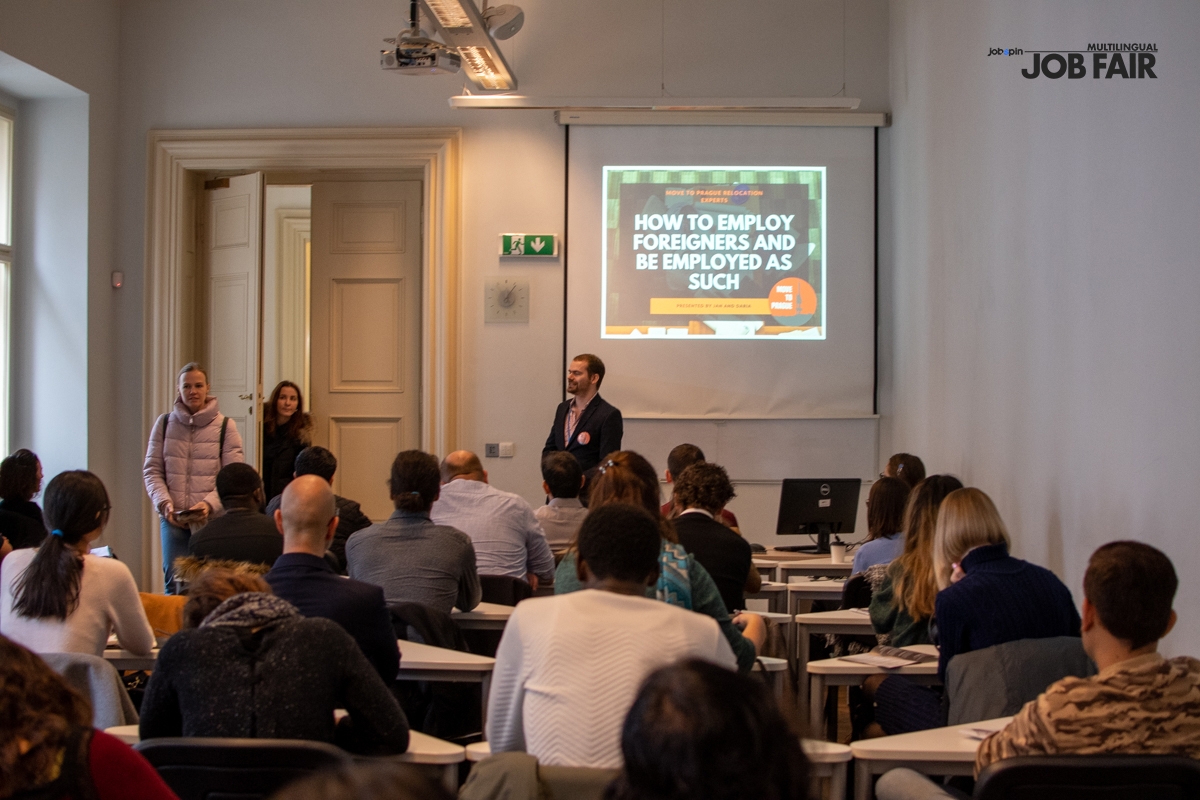 Move to Prague Relocation Services' presentation at Jobspin Multilingual Job Fair in Prague, November 23, 2019. Credit: CG / Jobspin.
Kalina compared the event with the early Jobspin Job Fairs "When we attended our first Jobspin Job Fair, I was afraid we would always be meeting the same people (job-seekers) and that it would not be of much use to us, but the opposite is true! Of course, there are people who have been looking for a job for years and attend all the Job Fairs, but the majority of the visitors are new, which tells me that the Job Fair does a great job connecting employers and potential employees. For us, the best outcome is that we get seen by hundreds of people, and many of them actually become our clients as well."
Who Is A Typical Visitor at the Jobspin Job Fair?
According to the organisers, attendance, including the total number of people who registered either online or on-site at the registration desk, was 725, a little higher than last year's job fair.
The average age of the visitors was between 25 and 35, with a roughly even split between men and women.
Most European nationalities were represented, as well as several people from Asia and Africa. The visitors therefore formed an amazing multicultural mix, with no specific language group or nationality prevailing; what was common among visitors was a knowledge of at least two languages, usually English and their native language, and university education.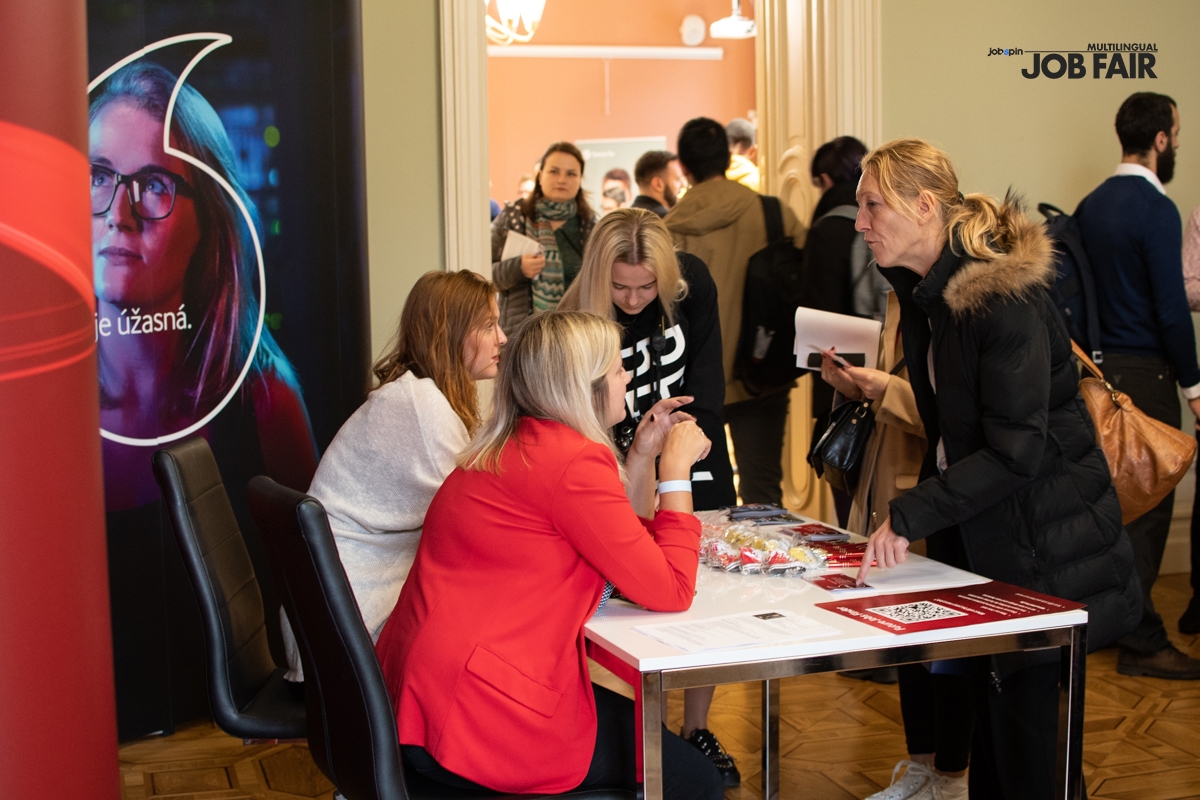 Vodafone at Jobspin Multilingual Job Fair in Prague, November 23, 2019. Credit: CG / Jobspin.
Jan Klenka, RPO Coordinator for the Manpower Group, which organized the CV consultation panel, said he was surprised that there were not so many students, but mainly people with work experience. According to Klenka, most of the candidates who visited the CV consultation panel had several years of experience in various fields or were looking for junior positions. He also mentioned the interesting exception of an American CEO who came to discuss his resumé.
On behalf of the organising team, Kukrechtova added: "We would like to thank all the representatives of employers and our fantastic partners for the hard work they put in, for the weeks of preparation, and for making this Jobspin another successful event. We are always absolutely delighted to see people start their new careers at our events. That's why we do it, after all!"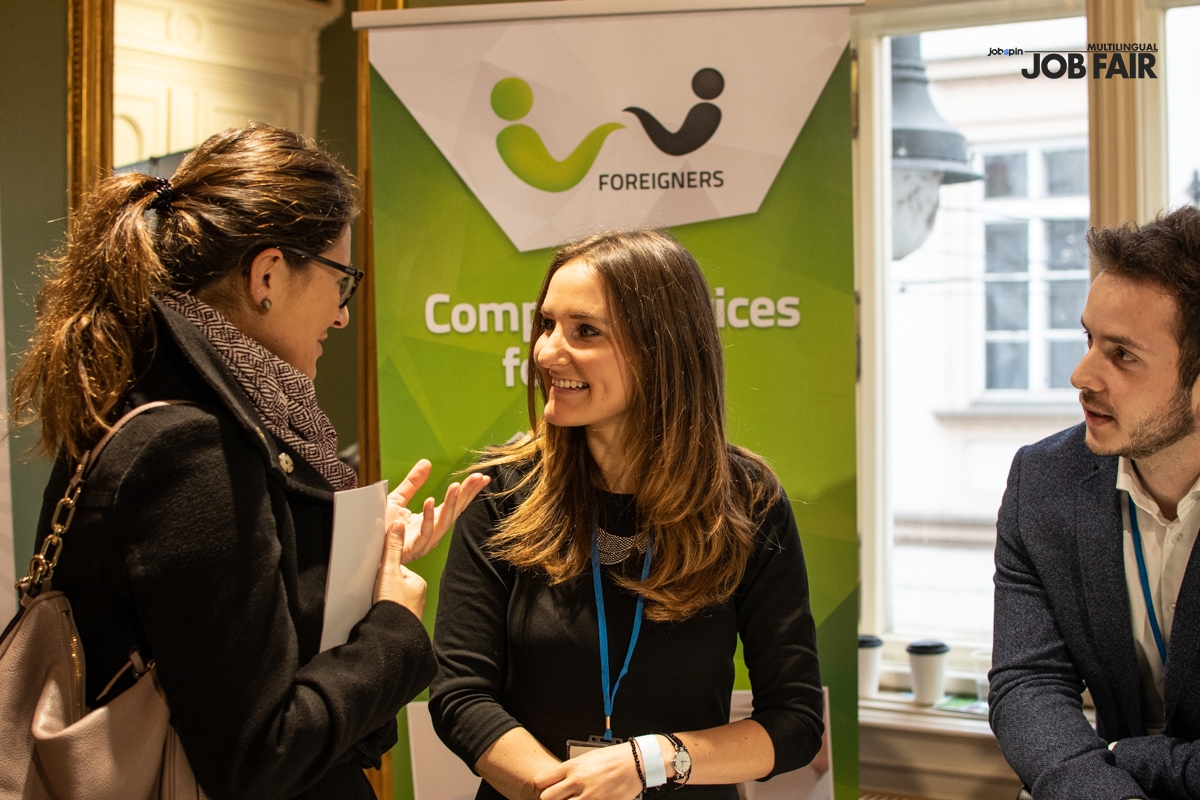 Foreigners Prague at Jobspin Multilingual Job Fair in Prague, November 23, 2019. Credit: CG / Jobspin.
If you enjoyed the Jobspin Job Fair, please visit the official website and leave a review at the bottom of the page.
The Jobspin Multilingual Job Fair will return in spring.
Exhibiting employers: Accenture, Amazon, D-ploy, GEP Worldwide, Hertz Autovermietung GmbH, ICON Communication Centres, Johnson & Johnson, Manpower Group s.r.o., Novartis, SAP Services s.r.o., Sirva, Swiss Re Group, UNICEF Global Shared Services Centre – Budapest, and Vodafone.
Partners: Czech Courses, Foreigners Prague, Move To Prague.
Text by Antonis Dimosthenous
TIP: The Czech economy has been booming for the last few years, and maybe you are thinking about moving here. Yet, you are worried: what are the best paying jobs in Prague? Which field has the best salary? Should you move to Brno instead? In this article "Career Guide: Jobs And Salaries In Prague And Brno By Sectors And Positions In 2019", we will give you an overview of the salary levels and economic situation in the Czech Republic, to help you find the best solution for your career.
The news and tips for people who would like to find a job in Prague or Brno were prepared by the Jobspin team: a mix of interns, graduates, and university drop outs. Like what you're reading? Subscribe to monthly news highlights in the Czech job market and economy – Newsletter Sign Up. Stay tuned – more reading is coming next week.
GALLERY: JOBSPIN MULTILINGUAL JOB FAIR IN PRAGUE, NOVEMBER 23, 2019. CREDIT: CG / JOBSPIN